Single-core performance has traditionally been Intel's stronghold even till the recent Comet Lake generation. AMD's Zen 3 Vermeer changed all that with even the entry-level Ryzen 5 5600X beating the Core i9-10900K in most single-core tests and games. AMD's new-found hegemony, however, may be short-lived.
Core i9-11900K QS vs. Core i9-10900K and Ryzen 7 5800X
A few benchmark results of an alleged Core i9-11900K qualifying sample (QS) seem to have made their way online. According to numbers leaked by ChipHell forum member popboy139, the Core i9-11900K QS's single-core scores apparently give a tough run to its 8-core AMD competitor the AMD Ryzen 7 5800X.
We previously reported on the possibility of a Core i9-11900K attaining a 5 GHz boost and 700+ points in CPU-Z single. It looks like this Core i9-11900K QS could be that chip after all. According to popboy139's post, the Core i9-11900K QS scores 710 points in CPU-Z single, 1700 points in Cinebench R23 single, and 660 points in Cinebench R20 single.
In comparison, a Core i9-10900K scores 534 in CPU-Z single, 1,324 in Cinebench R23, and 532 points in Cinebench R20 single (numbers from @3DCenter_org). This makes the Core i9-11900K QS663 24-33% faster than the Comet Lake Core i9-10900K in single-core workloads.
Taking the Ryzen 7 5800X's scores (663 - CPU-Z single, 1,596-Cinebench R23 single, and 625 - Cinebench R20 single) into account, we find that this Rocket Lake-S QS part is about 5-7% faster depending on the test.
As opposed to engineering samples, qualifying samples come very close to the retail specifications. Therefore, we can expect similar or possibly slightly better scores in the retail units. The OP also notes that (from translation provided by @hrb0755) this sample was being run at a very high voltage and that the BIOS of the board was not perfect.
Also being indicated is that the DeepCool Xuanbing 400 cooler is installed on this sample without any mounting mechanism and a low-quality thermal paste was used. Even then the Core i9-11900K QS recorded less than 95 °C while consuming 160 W, which essentially makes it a cooler chip than the Core i9-10900K at similar conditions.
The OP notes that the Rocket Lake-S sample consumes less power than the Core i9-10900K while running AVX2 AIDA64 tests but consumes more while running AVX512 workloads. Still, cooling the Core i9-11900K seems to be easier than the Core i9-10900K despite the higher power consumption due to its larger die size.
Core i7-11700 ES1, Core i7-11700K ES2, and Core i9-11900 ES2
Apart from these initial performance numbers, ES listings of the Core i7-11700, Core i7-11700K, and the Core i9-11900 have also been spotted. These are the clocks, TDPs, and features being indicated:
| SKU | Cores/Threads | Base clock (GHz) | Single-core boost (GHz) | All-core boost (GHz) | PL1/PL2 (W) | Other features |
| --- | --- | --- | --- | --- | --- | --- |
| Core i7-11700 ES1 QV1J | 8/16 | 1.8 | 4.4 | 3.8 | 65/224 | PCIe Gen3; non-XMP; Xe Graphics |
| Core i7-11700K ES2 QV1K | 8/16 | 3.4 | 4.8 | 4.3 | 125/250 | PCIe Gen4; XMP 3200+; Xe Graphics |
| Core i9-11900 ES2 QVYE | 8/16 | 1.8 | 4.5 | 4.0 | 65/224 | PCIe Gen4; XMP 3200; Xe Graphics |
The OP also notes:
B560 motherboards will support memory overclocking.
The Core i7-11700 ES1 consumes about 120-130 W, which goes up to 150-160 W in AVX512.
The Core i7-11700K ES2 consumes 160 W and there's a sample that can attain 5 GHz boost.
The Core i9-11900 ES2 comes with XMP support and performs similar to a Core i9-9900K or a Core i7-10700K.

Remember that we are still looking at ES and QS numbers for now and if these are indeed real, the final retail units look to have a definite edge over their AMD Zen 3 counterparts at least in single-core/gaming performance. Multi-core performance will continue to be AMD's stronghold for quite some time to come.
Rocket Lake-S's success also largely depends on how well Intel prices them. We should know more in the weeks to come, so stay tuned.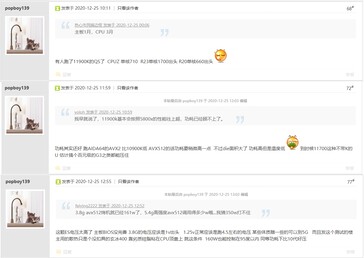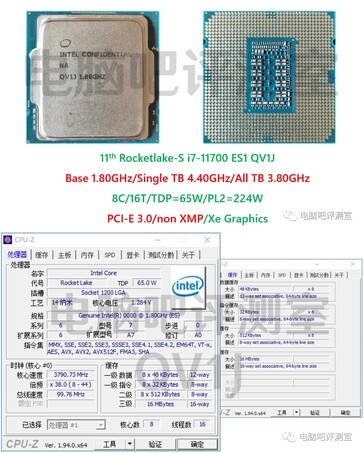 RKL ES info, power, MEM OC and more

- B560 support MEM OC
- i7 11700 ES1 QV1J : FPU 120~130W / AVX512 150~160W
- i7 11700K ES2 : FPU 160W / There is a sample reach 5.0 boost
- i9 11900 ES2 QVYE : XMP support / performance is similar 9900K/10700K pic.twitter.com/LlQwXPQx9H

— 포시포시 (@harukaze5719) December 27, 2020
Though a cell and molecular biologist by training, I have been drawn towards computers from a very young age ever since I got my first PC in 1998. My passion for technology grew quite exponentially with the times, and it has been an incredible experience from being a much solicited source for tech advice and troubleshooting among family and friends to joining Notebookcheck in 2017 as a professional tech journalist. Now, I am a Lead Editor at Notebookcheck covering news and reviews encompassing a wide gamut of the technology landscape for Indian and global audiences. When I am not hunting for the next big story or taking complex measurements for reviews, you can find me unwinding to a nice read, listening to some soulful music, or trying out a new game.