2021 Apple iPad Pro benchmark blitz: +50% gains on the A12Z Bionic model, beats all M1 Macs in Geekbench single-core testing, and outpaces Intel Core i9 MacBook Pro 16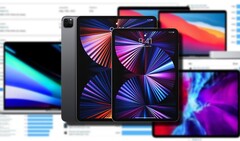 The 2021 Apple iPad Pro has been spotted on Geekbench, with MacRumors highlighting five separate tests runs. At the time of writing, there were nine records on the benchmark site for the M1 iPad Pro, which left average scores of 1,712 points for the single-core test and 7,207 points for the multi-core test. If you remove one of the records that appears to have outlying low scores for both benchmarks, the average scores for the new iPad Pro rise to 1,717 points and 7,285 points, respectively. When you compare the marks with other Apple devices you realize what a smart move it was for Cupertino to stick the M1 Silicon inside its latest tablet generation.
First off, comparing the M1 iPad Pro with the 4th Gen model that sports the not shabby A12Z Bionic chip leaves a very positive impression for the 2021 device. The average scores for the 2020 iPad Pro on Geekbench are 1,121 points (single) and 4,656 points (multi). This leaves the average marks mentioned above for the 2021 iPad Pro at +52.72% and +54.79%. It's likely the marks for the latest variant of the popular slate won't deviate too much now, so future buyers of the model with the M1 Apple Silicon can expect a generally +50% faster device. This is all the more remarkable when you consider that it is just a one-year generational difference, even though a whole new processor and microarchitecture are involved.
If that's not impressive enough for those who might be on the fence about making a purchase, then consider the fact that the 2021 Apple iPad Pro's Geekbench single-core results are currently a nose ahead of those of all of the M1 Macs, so that includes the MacBook Air (Late 2020), MacBook Pro 13 (Late 2020), and the Mac Mini (Late 2020). Considering the tablet form factor of the M1 iPad Pro, it's a surprise to see how its multi-core scores are not that far behind those of the M1 Macs either (see charts below). As pointed out by MacRumors, the 2021 iPad Pro can even outperform a MacBook Pro 16 with Intel Core i9-9980HK or i9-9880H. The 5th Gen iPad Pro starts at US$799 for the 11-inch model and US$1,099 for the 12.9-inch version.
My interest in technology began after I was presented with an Atari 800XL home computer in the mid-1980s. I especially enjoy writing about technological advances, compelling rumors, and intriguing tech-related leaks. I have a degree in International Relations and Strategic Studies and count my family, reading, writing, and travel as the main passions of my life. I have been with Notebookcheck since 2012.