iOS 15.5 takeaways: 6 undeniably helpful features and future indicators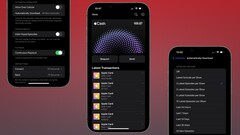 The choices and comments made on this list belong solely to the author.
1. Expanded settings for the Podcasts app
Back in early 2021, Apple began making significant changes to its default Podcasts app that is built into all iOS and iPadOS devices. The initiative began with expanded configurations for subscription-based podcasts, reduced friction for podcasters distributing through third-party hosting providers, and expanded support for more widely used audio formats.
Pivoting from its focus on eliminating redundancies for podcast creators, Apple's latest update to the Podcasts app addresses a common concern among listeners. By visiting the Settings app on an iPhone or iPad and navigating to Podcasts > Automatic Downloads > Automatically Download users can conserve storage on their devices by selecting from a list of preset parameters, enabling automatic deletion for older podcast episodes.
2. Apple Cash UI changes
In iOS 15.5, Apple Cash features more consistent branding across the system, most notably in the Messages app where the Apple Pay toggle has been rebranded as Apple Cash.
While users can still send and receive money using their Apple Cash card in the Messages app, Apple additionally added "request" and "send" buttons in the Wallet app, making transaction controls more accessible and no longer exclusive to the Messages app.
3. Rebranded iTunes Pass
As media streaming continues to become more dominant, Apple has quietly removed references to iTunes across all its major platforms, including the iPhone and iPad. Beginning primarily with its decision to replace iTunes with dedicated Music, Books, Podcasts, and TV apps on macOS Catalina back in 2019, Apple has also begun rebranding the iTunes Pass in Apple Wallet to Apple Balance.
This change in verbiage signifies that funds on a user's Apple Balance card may be spent on subscription services and tangible products in addition to purchased content through the iTunes Store app. The branding strategy brings the digital Apple Balance card in line with Apple's longstanding gift card strategy that no longer requires separate cards for iTunes/App Store and Apple Store purchases.
4. Location filters for Photo Memories
In iOS 15.5, Photo Memories, a feature that utilizes metadata from photos to automatically create dynamic slideshows, includes a new backend system barring images from "sensitive locations" from appearing in memories. The list of banned locations is not user-editable and currently includes only Holocaust-related locations.
The feature was implemented in a manner allowing Apple to add and subtract locations as it pleases. This decision was met with uneasiness from some Apple enthusiasts who believe users should be given the option to customized banned locations instead of relying on Apple's judgment.
5. Apple Music Classical
A little under a year ago, Apple announced that it had acquired classical music streaming service Primephonic, stating "Apple Music plans to launch a dedicated classical music app next year combining Primephonic's classical user interface that fans have grown to love with more added features". According to Primephonic's website, Apple has already missed its early 2022 launch window for the new music streaming service.
However, iOS 15.5 indicates we could see Apple Classical launch sooner rather than later. Hidden strings of code in the Music app feature prompts that directly reference the service, including "Open in Apple Classical" and "open this in the new app designed for classical music".
6. Tightened security
The latest release of iOS and iPadOS includes a myriad of security patches blocking exploits that could allow several apps to execute arbitrary code with kernel privileges.
Some memory corruption issues and Safari tracking vulnerabilities have also been addressed.
Self-proclaimed coffee connoisseur and tech enthusiast Brahm Shank is captivated by the impact of consumer tech: "It's profoundly moving when people discover that the phone in their pocket or the tiny computer on their wrist has the power to enrich their lives in ways they never imagined." Apple, Inc. and its unique position at the intersection of technology and the creative arts, resonates deeply with Brahm and his passion for helping people unleash their potential using technology. Over the years, Brahm has held various podcasts - including famed technologist David Pogue of The New York Times on topics such as Big Tech and digital wellness.