Apple Podcasts: 4 breakthrough improvements coming soon for creators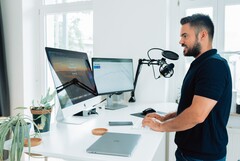 The choices and comments made on this list belong solely to the author.
1. Enhanced analytics
All podcast creators will soon gain access to enhanced listenership metrics in Apple Podcasts Connect. From the Analytics tab, users will be able to access the number of followers per show and easily measure followers across shows. They can also compare the amount of time listened for those following and not following the show including a new "Trends" menu that illustrates the loss and gain of followers over time.
2. Revised customization tools
New promotional materials and assets will allow Apple Podcasts creators to customize subscription banners with varying verbiage. For example, one show might offer and promote early access to episodes while another show in the channel might offer and promote archival access to certain content.
3. Hands-on support from Apple
Beginning on March 22 all creators enrolled in the Apple Podcasters Program can now request direct guidance form the Apple Podcasts team to help jump-start their subscriber base. Apple's "Jump Start" initiative will feature extensive support material, including learning about subscription best practices, understanding subscription reports, and more.
4. Expanded audio file support
Last but not least, Apple is removing yet another finicky barrier for less tech-savvy creators interested in publishing their material to Apple podcasts using standalone devices like the iPhone. With expanded support for mp3, WAV, and FLAC files for subscriber audio on Apple Podcasts, it's now easier than ever for podcasters to upload their shows to the platform.
Self-proclaimed coffee connoisseur and tech enthusiast Brahm Shank is captivated by the impact of consumer tech: "It's profoundly moving when people discover that the phone in their pocket or the tiny computer on their wrist has the power to enrich their lives in ways they never imagined." Apple, Inc. and its unique position at the intersection of technology and the creative arts, resonates deeply with Brahm and his passion for helping people unleash their potential using technology. Over the years, Brahm has held various podcasts - including famed technologist David Pogue of The New York Times on topics such as Big Tech and digital wellness.