YI partners with Home Depot for its Black Friday outdoor camera sale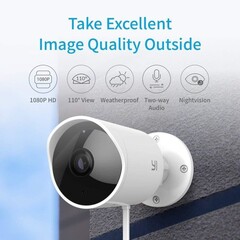 YI is a home security brand with some Black Friday deals that have already been added to its own online store. However, it has announced that its weather-proof outdoor variant will be up to 40% through the chain Home Depot on the day itself. The camera comes with a 6-month subscription to a cloud service for video through this retailer.
YI is a well-known brand of personal security devices and accessories. Its 2019 Black Friday event includes its indoor security camera with FHD streaming functionality, which is US$25.99 rather than its usual $34.99. Alternatively, a 2-pack of these products is $10 off its normal listed price, or $59.99.
This brand's 1080p dome camera also has a $20 discount during this sale. However, a better deal for the actual date in question may be yet to come. YI has announced that it will offer reductions of up to 40% on its outdoor security camera bundled with 6 months' worth of YI Cloud use through Home Depot. Currently, this combined product is priced at $119.99 with this retailer.
Unfortunately, however, YI's new line of security products is not included in either sale. Known as Kami, it comes with the company's latest AI that discriminates between potential intrusion events in order to cut down on unnecessary notifications for the user.
This feature may also manage the risk of frivolous call-outs to emergency services generated by a home security network, which, as YI notes, is becoming associated with legal sanctions in some jurisdictions. Kami also distinguishes itself by using Microsoft Azure for its secure-cloud needs, rather than Google's GCloud or AWS as with some other consumer-level surveillance OEMs.