Xiaomi Redmi K20 impressive AnTuTu scores leaked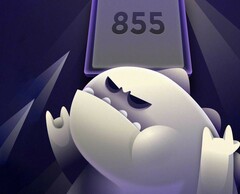 Redmi K20 looks to be 25% faster than a Galaxy S10 model, even though they are both powered by the same Snapdragon 855 SoC. Rumor has it that a Pro version with more RAM and a bigger screen is also in the works. Furthermore, Redmi plans to launch the K20 model with a limited edition phone case featuring the "Big Devil" mascot.
The AnTuTu scores were leaked by Xiaomi's own Redmi General Manager Lu Weibing. Redmi intends to market the upcoming Redmi K20 as a Samsung flagship killer (hence the K in the naming scheme), and if we compare the leaked scores to other released high-end models powered by the Snapdragon 855 SoC, it sure looks like the Redmi K20 is destroying the competition.

Take for example the Xiaomi Mi 9, which is the fastest Android handheld on AnTuTu as of March 2019, and the Samsung Galaxy S10 that is a close second. The Mi 9 (6 GB RAM version) managed to score 371,423 points, while the S10 (8 GB RAM version) is a bit slower with 358,845 points. Now, according to the leak coming directly from the Xiaomi official, the Redmi K20 model managed to get an impressive score of 458,754 points, which is almost 25% faster than the Samsung Galaxy S10. Unfortunately, the scores do not reveal if it is the 6 GB or the 8 GB RAM version.

The specs for the Redmi K20 were leaked a few days ago, so we will not insist on them here. However, according to IndiaShopps, the Redmi K20 is rumored to get a Pro version, as well, so we could expect 10 or 12 GB of RAM and a bigger screen. Additionally, Xiaomi will be launching the K20 together with a limited "Big Devil" phone case.