US pricing for the QLED Samsung Galaxy Book Ion is leaked; release seems imminent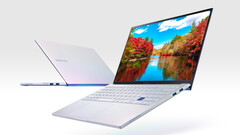 The Samsung Galaxy Book Ion raised some interest at SDC19 and CES 2020 as it purported to offer a QLED display in a more mid-range laptop. However, nothing had been heard about it in the US since then. Now, a listing with a USD price for this notebook has appeared on a retail website.
Samsung introduced the Galaxy Book Ion at SDC19 and also showcased it at CES 2020 as a new notebook that might put QLED screens of 13 or 15.6 inches into the hands of more consumers. However, it has failed to become available in the United States thus far. However, with a new and possibly accidental listing on ElectronicsExpress, this may be about to change.
This online retailer has indeed posted the Galaxy Book Ion on its site. It shows the notebook's specs and pricing, although its "buy" button is yet to become active. This live sales page offers top-end SKUs of this new device: this entails the Core i7-10510U processor, 16GB of RAM and dual 512GB SSDs. It also features 2GB of NVIDIA GeForce MX250 graphics.
This Galaxy Book Ion should also have 2 USB 3.0 ports and Thunderbolt 3, although its new sales prevew does not specify these overtly. It does, however, have the promised 15.6-inch QLED display with a 16:9 FHD resolution. And the price to be charged for this?...US$1299.99. Therefore, quite a number of business notebook series may have a new and worrying competitor on their hands.