Toshiba unveils new Qosmio and Satellite notebooks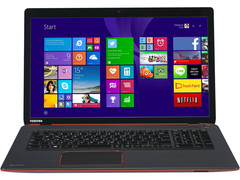 Toshiba has just unveiled a range of new notebooks. The Japanese manufacturer introduced new models in the Qosmio X70-B, Satellite C50, L50-B, B-L50D, P50-B, B-C70, P70-B and B-S70 series. The new notebooks come with 15.6 or 17.3 inch displays and will be priced between 300 and 1450 Euro.
Working For Notebookcheck
Are you a techie who knows how to write? Then join our Team! Especially English native speakers welcome!
Currently wanted:
News and Editorial Editor - Details here

Toshiba just updated most of its notebook series, such as the Qosmio X70-B and Satellite C50-B, L50-B, L50D-B (with AMD processors), P50-B, C70-B, P70-B and S70-B series. The new additions come in various form factors and address various price points.
The cheapest new model is the Satellite C50-B-16Z, an entry-level notebook which features an Intel Celeron N2820 CPU, 4GB of RAM, and a 500GB HDD, all at a price of 300 Euro. The premium segment is addressed by the new Qosmio X70-B-102 and Qosmio X70-B-10M (priced at 1450 Euro), as well as by the Satellite P70-B-104 and the Satellite B-105-P70 (priced at 1350 Euros).
The new Qosmio X70-B and the new Satellite P70-B 17.3-inch notebooks come with high-end specs such as the powerful Intel Core i7-4710HQ quad-core CPU and an AMD Radeon R9 M265X GPU. The new Toshiba Satellite P50-B-11R, priced at 1100 Euro is also based on these core components.
Moving on to the new model in the Satellite L50-B series, the L50-B-1VC is priced at 450 Euro and comes with specs such as an Intel Pentium N3540 CPU, 4GB of RAM, and 500GB of HDD storage. The new Satellite L50D-B-13K comes with an AMD A6-6310 CPU and a Radeon R5 M230 GPU, and is priced at 550 Euro.
Here's a list of all the notebooks that Toshiba recently unveiled, along with their corresponding retail prices:
Qosmio X70-B-102 1449 €

Qosmio X70-B-10M 1449 €
Satellite C50-B-16Z: 299 €

Satellite C70-B-30T: 549 €
Satellite L50-B-1VC: 449 €

Satellite L50-B 1X5: 599 €

Satellite L50-B-281: 699

€

Satellite L50-B-1XZ: 799 €

Satellite L50-B-25Q: 849 €

Satellite L50-B-22W: 899 €

Satellite L50-B-2CC: 999 €

Satellite L50D-B-13K: 549 €
Satellite P50-B-11R: 1099

€

Satellite P70-B-101: 1099

€

Satellite P70-B-104: 1349

€

Satellite P70-B-105: 1349

€
Satellite S70-B-110 1249 €