The Redmi K20 Pro may gain a 12GB RAM variant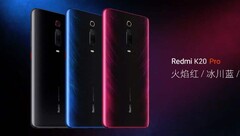 The Redmi K20 and K20 Pro have only recently emerged to try and conquer the market in China. The higher-end model was launched with 6 and 8GB RAM SKUs. However, an alleged update to the former's TENAA listing indicates that a 12GB model may be added to this list soon.
The Redmi K20 launch story had quite the prequel, made up of official teasers and spec releases which then turned out to contradict themselves slightly; rumors around a pop-up moratorium at the brand (that, again, were proved wrong in the end) and the oddest bunch of marketing tags in a long while. Now, it seems the current instalment of the K20 saga has another twist for it.
An online leaks site claims to have gotten hold of a TENAA certification listing that has been updated by Redmi. It now allegedly shows SKUs with 6, 8 and 12GB of RAM, whereas it had previously only referred to 6 and 8GB variants. This listing apparently pertains to the K20 Pro.
Should this rumor prove true, there are a few explanations as to why Redmi has done this. It may be that the K20 Pro has proven so popular that the OEM is now preparing a super-charged version to keep up with customer demand. Given the recent issues its parent company, Xiaomi, has had with its supply chain in the recent past, it may be that this move is indeed intended to help Redmi adapt to a similar situation in a potentially fortuitious manner.