The Pixel 4a will have a 60Hz refresh rate, according to its new near-full specs leak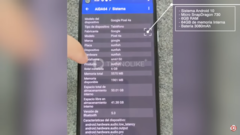 A Spanish-language vlogger claims to have access to video showing a working unit of the upcoming Pixel 4a. This leak alleges that the phone has a 5.81-inch FHD+ display with a distinctly standard refresh rate. Its SoC, internal memory and main camera specs are also supposedly detailed here.
A YouTube channel called TecnoLike Plus claims to have reviewed the Google Pixel 4a...despite the fact this phone is yet to see so much as a launch announcement yet. Nevertheless, the show's host claims to have been sent live video of the device from Cuba. Its specs, revealed through either AIDA64 or the phone's settings, appear to match those of earlier leaks, its code-name sunfish included.
This footage shows a phone that matches one captured in an earlier leak, alongside a new fabric-look case also found in these photos. This material depicts a phone that looks quite like a Pixel 4, down to its square camera housing. However, in this case, the module's real estate is somewhat wasted on a single sensor.
According to TecnoLike Plus, it is a 12MP sensor. It is joined by an in-display selfie camera in the "Pixel 4a", which, again, matches previous reports. Those hoping for a display-spec bonus in this FHD+ panel may be disappointed, as it is allegedly set at 60Hz. Then again, like its predecessor, the subject of the new leak is a mid-ranger.
The 4a is painted as powered by the Snapdragon 730 SoC in its new video. It has just 64GB of internal storage, thus apparently perpetrating Google's habit of supplying less-than-expansive memory in its hardware. Then again, it has an appreciable 6GB of RAM.
This video also seems to show that the Pixel 4a runs on Android 10, with a security patch level apparently from the future (or a beta, more likely): April 5, 2020. It is described as having a plastic chassis that exhibits a USB type C port, a power button in a contrasting color and a 3.5mm headphone jack.
Finally, some iffy pricing information contained in the video hints that this phone will be about US$480 when it goes on sale.