Rumour | This is what the Google Pixel 5 XL apparently looks like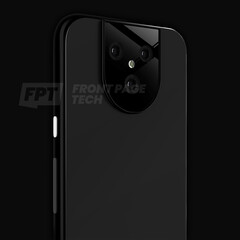 Fancy a look at the Pixel 5 XL nine months before Google releases it? Well, that is what Jon Prosser and Front Page Tech claim to be offering, at least. Unconvinced? Yeah, so are we.
Last year, he claimed in a "New EXCLUSIVE LEAK" that the Pixel 4 would have no physical buttons. Citing a supposedly credible source, this speculation proved well wide of the mark. Nearly a year later, Prosser has now published what he states is a "FIRST LOOK!" at the Pixel 5 XL. Purporting to have received a CAD file on which the render above is based, Prosser has seemingly decided to just show the back of the device. Specifically, a comical-looking rear camera housing.
Unsurprisingly, some outlets have anointed the render as being a "first look at the Google Pixel 5 XL". Except there is no reason to believe that this is not just another joke by someone who describes themselves as a "Professional asshole". Still, we could be wrong, although we doubt that even Google would release something this ugly.