Leaked Google Pixel 4a billboard ads confirm design, price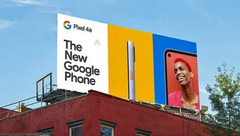 Noted leaker Evan Blass posted possible billboard ads for the Google Pixel 4a, which is expected to launch later this year. The ads, if true, confirm many of the rumors surrounding the phone's design, including its hole-punch selfie camera and square housing for the rear-facing cameras. Perhaps most importantly, the ads also confirm a killer price tag; the Pixel 4a will launch at $399.
A new leak of billboard ads for Google's upcoming Pixel 4a midrange smartphone confirms prior rumors about the design. Perhaps more importantly, the ads also reveal the price, which should make consumers happy.
The leaks come from Evan Blass, the notorious smartphone leaker. In the ads, which have been photoshopped onto real-world billboards, the Pixel 4a is shown in its full glory. The pictures highlight the hole-punch front-facing camera, the edge-to-edge display, and the square camera housing that previous leaks have hinted at.
The ads also showed a pale blue color, which was previously rumored to be in the works. The Pixel line is known for including at least one oddball color; it looks like an easter egg blue will be the Pixel 4a's unique hue.
Perhaps most importantly is the price, which is shown in one of the leaked ads. The Pixel 4a will start at US $399, the same price at which the Pixel 3a launched last year. That makes the Pixel 4a a good deal, though it will have to compete with the slew of affordable mid-range handsets that also sport the Snapdragon 730 SoC. If the Pixel 4a's camera can do what the Pixel 3a's did for the price last year, Google's new mid-range phone may be a no brainer.