Purported Google Pixel 5 renders may leave Pixel fans bewildered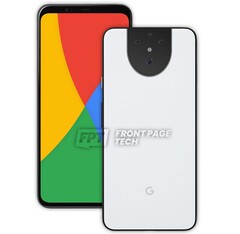 A new leak has revealed what is supposed to be early renders of Google's next flagship phone, the Pixel 5. An extra lens looks to be added and the Soli Radar system could make a re-appearance. The real bone of contention, however, is the eccentric camera module on display.
The Pixel 4 phones were released four months, which puts us about eight months away from the launch of Google's next flagship phones, the Pixel 5 and Pixel 5 XL. Over the past few weeks, there have been a few mentions of the Pixel 5 on the grapevine. Supposed renders of the phone have now surfaced, but it's likely to leave expectant fans of the series stumped.
The renders were posted by Jon Prosser of Front Page Tech. The source was spot on with details of the Galaxy S20, so this may not be baseless. On the flip side, enthusiasts may also remember the fiasco with the "Pixel Ultra" back in 2018.
Going by the renders, the Pixel 5 will finally adopt a triple-rear camera system. That should see an ultra-wide-angle lens added to the Pixel 4's current setup. An extra lens is fine and all, but the real issue lies with the design of the camera module. We're not sure what to think about it, really, so have a look for yourself at the bottom of this report.
While 2020 looks to be the year of the hole punch, these renders show the Pixel 5 sporting a rather sizeable forehead, perhaps due to the presence of the Soli Radar setup that debuted on the Pixel 4 phones.
What do you think about these supposed Pixel 5 renders? Let us know in the comments below.
Prototype Pixel 5 render, front and back.

Forehead is slightly smaller than Pixel 4 - still giving room for the Soli Radar system.

I still hope this isn't the final design.

Think it looks better in white? pic.twitter.com/lOtQkyY5fY

— Jon Prosser (@jon_prosser) February 20, 2020