The AdobeRGB standard still plays an important role for picture editing, even though more and more laptop displays are switching to the DCI-P3 color gamut. Some manufacturers certainly follow Apple's example, where the MacBook Pro models have been equipped with P3 screens for quite some time, but the increasing number of OLED screens certainly plays a role as well.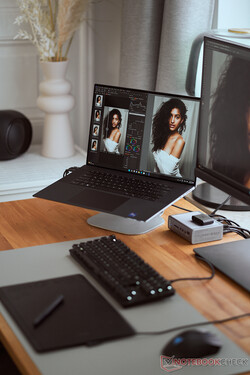 This means there are not a whole lot of laptops if you want to edit AdobeRGB pictures without an external screen. One option is the Dell XPS 17 9720, which still features a high-resolution 4K screen with AdobeRGB color gamut. Our comprehensive review showed that the screen offers very accurate colors after a calibration (the corresponding display profile can be downloaded for free in our review) as well as full AdobeRGB gamut. Our video reviewer Alexander Wätzel, who spends a lot of time with professional picture editing (references are available at dgtl-craft.com) also attests to the excellent picture editing capabilities in combination with Adobe Photoshop. There will be a full video review of the Dell XPS 17 9720 in a couple of days, but you can already watch a short teaser below:

However, the IPS panel also has some drawbacks like the slow response time and we also managed to determine display flickering at lower brightness levels. The 4K screen also consumes a lot of power and the HDR capabilities are limited due to the brightness of little more than 400 nits.
Otherwise, the XPS 17 9720 is pretty much the same device we know from last year. The processor was upgraded to Intel's current 12th generation (Alder Lake) and the performance is very good in the first couple of minutes, but it is actually not that much faster than the old XPS 17 with the Tiger Lake Core i7-11800H under sustained workloads. You can still choose between the dedicated GPUs GeForce RTX 3050 and RTX 3060, which are specified at 60W. This is a slight downgrade from last year's model, where the GPUs consumed 70W.
The cooling solution in general leaves pretty mixed impressions, because the surface temperatures are pretty moderate, but the fans are pretty loud during gaming or more demanding applications in return. The performance level in general is a bit disappointing considering the high price, which is not only a result of the low GPU performance, but also the behavior under combined workloads. Sure, the XPS 17 is a multimedia laptop and not a gaming machine or mobile workstation, but potential buyers should be aware of these limitations. If you want to play on your XPS 17 form time to time, we definitely recommend the optional RTX 3060.
Despite the drawbacks, the XPS 17 9720 is still a very good multimedia laptop. The price-performance ratio is not great though and Dell has to be careful not to fall behind the competition. This is the third year where we pretty much get the same device, so it is time for a more extensive upgrade. Please see our review of the XPS 17 9720 for more information and benchmark results:
I grew up with modern consumer electronics and my first computer was a Commodore C64, which encouraged my interest in building my own systems. I started working as a review editor for Notebookcheck during my dual studies at Siemens. Currently, I am mainly responsible for dealing with business laptops and mobile workstations. It's a great experience to be able to review the latest devices and technologies and then compare them with each other.