Tesla's Cybertruck trolled by Lego Group's shatterproof vehicle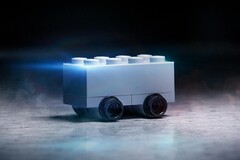 Lego Group, the company behind the beloved plastic building bricks, has expertly trolled Tesla in regard to the recently revealed Cybertruck. Elon Musk unveiled the futuristic-looking electric vehicle a few days ago in a PR event that was overshadowed by the Cybertruck having its unbreakable windows shattered on stage. Lego has come up with a very attractive alternative for prospective buyers.
It will be a while before the world really finds out if the Tesla Cybertruck is a smash or flop. Many have criticized it for its revolutionary design while others have pointed out its obvious flaws, in particular, the shatterproof windows that get easily shattered (see video below). Fortunately, the Lego Group has come to Elon Musk's aid with a new truck design evolution that will surely please most, although it does have one inherent fatal flaw common to all Lego brick products.
The Lego brick truck has a similar color scheme to the Tesla Cybertruck and reflects the latter with a similar aesthetic: bold, linear, boxy. It's a compact but powerful vehicle, which is guaranteed to be able to tow about as much as you want it to tow, in comparison to the Cybertruck's limit of 14,000 lbs. Storage space is restricted but the running costs are much lower and the Lego truck will not make such a dent in your bank balance as the US$39,900 (entry-level model) Cybertruck will.
Another pro for the Lego truck is it's about as shatterproof as anything with wheels can be. You won't have to worry about cracks in your windshield with this glimpse of the future. However, there is one massive con too, which doesn't affect the effort from Tesla. Whereas standing on a Cybertruck shouldn't be too much of an issue (avoid the sharp edges though), standing on a Lego brick truck in bare feet would be an agony that is almost unrivalled in the natural world.