Intel announces 665p SSD: faster and higher endurance than the 660p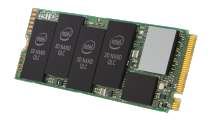 Intel's new 665p NVMe SSDs just arrived on the market. Leveraging the company's second-gen QLC technology, the new model brings faster performance and 50 percent higher endurance than the old 660p. 96-layer 3D NAND stacking allows Intel to price the 1 TB variant competitively with far slower SATA SSDs.
Between Intel lifting the embargo on Cascade Lake X reviews and AMD unveiling third-gen Threadripper, another Intel story flew under the radar recently: The Intel 665p, successor to the 660p NVMe SSD, was released. The 660p was notable for being the only successful SSD on the market with QLC (Quad Level Cell) NAND.
The 665p marks the debut of Intel's second-gen QLC technology. It is the second commercial implementation of a 96-layer NAND and paves the way towards relatively affordable, high capacity SSDs in the years to come. In the here and now, a 1TB variant of the 665p is available on Newegg and in retail outlets. A 2 TB version is planned but hasn't made it to market yet. At USD$124.99, the NVMe 665p competes in price with much slower 1 TB SATA SSDs like the Samsung 860 Evo.
Relative to the 660p, the 665p offers modest performance improvements. Sequential read speed increases from 1800 MB/s to 2000 MB/s, while sequential write increases from 1800 MB/s to 1925 MB/s. The real improvement is in terms of reliability. At 300 TBW, the 665p has 50 percent higher endurance than the 660p.
The 665p is an iterative upgrade, but a welcome one. Intel's managed to leverage its QLC technology to create an affordable, high capacity SSD, with remarkable endurance.