Samsung 860 PRO and 860 EVO SSDs now available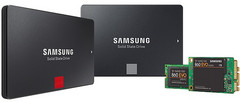 The Samsung 860 PRO and 860 EVO SSDs come in 2.5-inch, mSATA, and M.2 form factors, employing a new MJX controller and 64-layer V-NAND flash memory. The available capacities are 250 GB, 500 GB, 1 TB, 2 TB, or 4 TB.
More than two years ago, Samsung introduced the 850 PRO and 850 EVO as the industry's first consumer SSDs to use V-NAND memory. Now, the time has come for the 860 PRO and 860 EVO to take their place, also providing improvements in speed, capacity, reliability, and compatibility.
According to Un-Soo Kim, senior vice president of Brand Product Marketing, Memory Business at Samsung Electronics, "The new 860 PRO and 860 EVO SSDs combine the latest 512Gb and 256Gb 64-layer V-NAND, up to 4GB LPDDR4 mobile DRAM and a new MJX controller to elevate the user experience for both consumers and businesses."
When it comes to the specs and features of the new 860 PRO and 860 EVO SSDs, these are the highlights:
Storage Memory: Samsung V-NAND 2-bit MLC (860 PRO) and V-NAND 3-bit MLC (860 EVO)
Cache memory: 512 MB to 4 GB LPDDR4
Sequential Read/Write: up to 560/530 MB/s for 860 PRO and 550/520 MB/s for 860 EVO
Maximum Random Read/Write: 100K/90K IOPS (860 PRO) and 98K/90K IOPS (860 EVO)
Warranty: 5 years or up to 4,800 TBW (860 PRO) and up to 2,400 TBW (860 EVO)
The 860 PRO only comes in the 2.5-inch form factor, while the 860 EVO is available as a mSATA, M.2, or 2.5-inch drive. The available capacities cover everyone's needs, starting at 250 GB and going all the way up to 4 TB. Fortunately, the prices are budget-friendly, making these drives ideal for home users. The new drives should hit the market by the end of this month and their suggested retail prices start at US$139.99 (256 GB 860 PRO) and US$94.99 (250 GB 860 EVO).