Kingston launches new entry-level PCIe NVMe SSD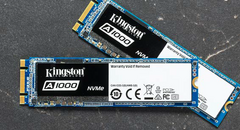 Kingston Technology has released a new SSD to its extensive product line-up. The A1000 is a PCIe NVMe solid state drive that is available with three different storage capacities: 240 GB, 480 GB, and 960 GB. The A1000 is an entry-level solution in an M.2-2280 form factor, with prices starting at US$119.60 for the 240 GB variant, US$218.40 for the 480 GB model, and US$403 for the 960 GB version.
California-based technology company Kingston has launched a new entry-level NVMe SSD called the A1000. The solid state drive comes in three different capacities: 240 GB, 480 GB, and 960 GB. The datasheet for the latest addition offers up more detailed information about the product. Apparently, the A1000 PCIe NVMe drive is twice as fast as a SATA-based drive and 20 times faster than a 7200-rpm HDD.
The datasheet from Kingston continues with some more specifications for the A1000. The 240 GB model offers sequential read/write performances of 1500 MB/s and 800 MB/s, respectively. The 960 GB version slightly improves on the write performance, offering up figures of 1500 MB/s and 1000 MB/s, respectively. The small size of the component makes it potentially ideal for notebook users searching for an SSD-related solution to storage issues, and it uses a PCIe NVMe Gen 3.0 two-lane interface and utilizes 3D TLC NAND flash memory.
With Amazon selling the considerably faster Samsung 960 Evo Series at very competitive rates (250 GB US$119.99, 500 GB US$227.99 and 1 TB US$479.99, at the time of writing), it's likely the Kingston A1000 will face some stiff competition in the entry-level sector of the flash storage market.