Intel launches Optane 800P M.2 SSD range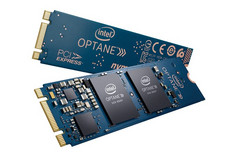 Intel has launched the latest edition to its expanding range of Optane SSDs for both notebooks and desktops. The new SSDs require just 2 PCIe 3.0 lanes, offering users more flexibility with their system configurations.
Intel has announced its latest addition to its Optane SSD family of products for enthusiasts and professional users. The new 800P series joins the 900P series and is designed to be used in tandem with slower spinning platter hard drive solutions to speed up overall boot and application load times.
The new Optane 800P SSDs can also be used in multiple SSD RAID configurations and support low-power states making them suitable for use in notebooks as well as desktop systems. They are compatible with the M.2 2280 form factor and use NVMe PCIe 3.0 x2 interface, whereas the 900P series require 4 lanes
The Intel Optane 800P SSDs come in 58GB and 188GB capacities and are retailing for US$130 and $200 respectively. Although slightly more expensive per gigabyte than the 900P series, the more efficient use of PCIe bandwidth could make the trade-off worthwhile.