Elon Musk claims that Teslas will soon be able to talk to people nearby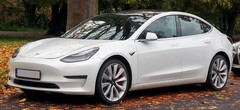 The tech billionaire tweeted a picture of a Model 3 Tesla driving by as its speakers play a brief audio clip that says "Well don't just stand there staring, hop in." The clip hints at Musk's plan to turn all Teslas into a giant fleet of autonomous taxis.
Elon Musk often uses his Twitter page to share updates on Tesla, SpaceX, and some of his more off-the-wall ideas. Recently, Musk put up a video clip of the Tesla Model 3, that appears to play an audio clip that says" "Hop in," on its speakers.
Musk's caption indicates that soon, Tesla cars might be able to "talk" to users and other people nearby.Tesla recently had to add additional external speakers to its cars to comply with safety regulations for electric cars, requiring them to create artificial noise. However, this tweet and other reports seem to suggest that the speakers could be used for more than just artificial noise.
Teslas in the future may use external speakers to interact with people nearby for safety purposes or otherwise.Talking Teslas could be part of Musk's long-term goal of having an autonomous Tesla taxi fleet, with cars that drive themselves when owners aren't using them. The Teslas could use the speakers to invite people to "hop in."