Single-board Hackintosh: Hackers load MacOS 10.14 Mojave onto LattePanda Alpha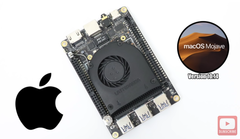 Hardware tinkerers ETA Prime and Novaspirit Tech have managed to load macOS 10.14 Mojave on the LattePanda Alpha, a powerful single-board computer. While there are several bugs ranging from non-working audio to broken WiFi, this is currently one of, if not the, smallest Hackintosh-capable system currently available.
The single-board computer (SBC) world was set on fire with the introduction of the Raspberry Pi 6 years ago. One of the latest (and most powerful) SBCs is the LattePanda Alpha, a compact device packed with some serious hardware. The 4.3" x 3.1" x 0.5" SBC sports an Intel Core m3-7Y30 CPU, 8 GB of RAM, an optional 64 GB of eMMC storage, and plenty of ports to choose from. For an SBC, that's some serious hardware, but it comes at a relatively steep cost: US $298. Oh, and you can load macOS 10.14 Mojave onto it.
Since the LattePanda Alpha uses a similar CPU to the base model 12-inch MacBook, most of the Hackintosh heavy lifting has been taken care of. There are a few caveats, though. For one, there seem to be some issues with getting the onboard GPU working properly, although hardware hacker Novaspirit Tech seems to have resolved this. The built-in WiFi on the LattePanda won't work, so you'll need either a hardline Ethernet cable or a USB WiFi adapter. Onboard audio won't work either, so a USB sound card is needed. Lastly, macOS refuses to install on either a microSD card or the built-in eMMC storage, so you'll need an m.2 SSD or an adapter to a standard SATA drive.
Still, this makes the LattePanda Alpha one of, if not the, smallest Hackintosh build currently available. If you're looking for a decent, small Mac desktop and don't mind some grunt work and solving your own IT issues, this may be a good alternative. At the very least, it makes for a fun side project.