All four Thunderbolt 3 ports in the 2018 13-inch MacBook Pro with Touch Bar work at full speed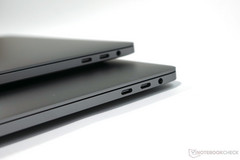 The move to 8th generation Intel processors has enabled full speed Thunderbolt 3 connectivity on all the four ports in the 2018 13-inch MacBook Pro with Touch Bar thanks to the increased number of PCIe lanes available from the CPU. This is an improvement over the 2016 and 2017 models wherein only 2 of the 4 ports had support for full speed Thunderbolt 3.
Working For Notebookcheck
Are you a techie who knows how to write? Then join our Team! Especially English native speakers welcome!
Currently wanted:
News and Editorial Editor - Details here

The 2018 13-inch MacBook Pro with Touch Bar has been somewhat of a disappointing affair when it comes to CPU performance but Apple fans intending to purchase the new 13-inch model have at least one reason to cheer — Apple has confirmed that all the four Thunderbolt 3 ports in the 13-inch MacBook Pro run at full speed. Those looking to hook up external graphic cards such as the recently announced Black Magic Design eGPU will be pleased to know that they need not be selective about which port to plug in to.
The use of the 8th generation Intel 'Coffee Lake-U' CPUs such as the Core i5-8259U and the Core i7-8559U in the 2018 13-inch MacBook Pro gives 16 PCIe lanes from the CPU, which enables Apple to enable full 40 Gbps bandwidth on all four Thunderbolt 3 ports. Previous generation 13-inch MacBook Pros with Touch Bar had Intel processors that offered only 12 PCIe lanes from the CPU because of which Apple limited full speed Thunderbolt 3 to the left-side ports while the right-side ports were gimped. The 15-inch MacBook Pros, on the other hand, always featured full speed Thunderbolt 3 on all ports. The non-Touch Bar version of the 13-inch MacBook Pro had only two Thunderbolt 3 ports but still they offered full bandwidth.
While having all Thunderbolt 3 ports running at full speed is no doubt welcome, even having a 2-lane Thunderbolt 3 really does not have much impact when connecting a the notebook to an external display. We have detailed an analysis earlier regarding the use of 2 PCIe lanes for eGPUs and shown that as long as the eGPU is powering an external display, there should not be much performance hit. The problem, however, arises when using the eGPU to power the main display of the notebook. In such cases, a full 4-lane Thunderbolt 3 port becomes essential. Also, do have a look at our detailed review of the Razer Core to find out if you actually need to invest in an eGPU solution.