New rumors suggest refresh for MacBook Air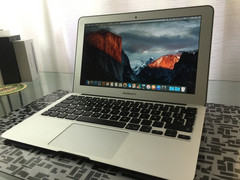 An article on a Taiwanese news site states that Apple is in fact releasing a new MacBook Air in 2018. These rumors suggest that the Cupertino company now intends to fast-track its release. However, is it all good news for fans of this device line?
The MacBook Air is the more accessible line of Apple's iconic slimline ultrabooks. They typically offer the looks many customers may be looking for, albeit with compromises on power. The latest media whispers linked to the MacBook Air name may show that this has not changed.
Potential customers for the next generation of this laptop may have been hoping for a next-gen CPU as well. However, hints coming from the Taiwanese news outlet udnnews.com (via techradar) say that Apple is not taking up Cannon Lake chipsets for their Air variants. Furthermore, they are also apparently not interested in Whiskey Lake CPUs for the same purposes. If these rumors are proved correct, the newest MacBook Air will arrive with an older processor. The udnnews.com report also implies that Apple is taking this action to avoid further delays in the devices' release.
This would make some sense, considering the date of the latest MacBook Air's debut. The latest rumblings on this subject suggest that the new model will be released later in 2018. However, its fans may also have to content themselves with an 8th-generation Kaby Lake (Refresh) for such a machine. On the other hand, these preliminary indications are based on the translation of one page on a Chinese-language website.
The MacBook Air has been absent as a new product for so long that some correspondents have expressed suspicions that it has been subsumed into the basic 12-inch MacBook line. However, there is now some possible support in the Asian media for its return.