Powered by MSI | Made for Gamers and Creators
Seeking out a reliable mobile companion to take your work remote? MSI business and productivity laptops have you covered
Introduction
Remote working has received a huge impetus this year owing to the COVID-19 pandemic. Businesses have shifted to a remote work culture to ensure the health and safety of their employees and customers. While telecommuting is not a new concept, the increasing demands of the remote working style meant that users needed to have enough capable hardware with next-gen connectivity to ensure unimpeded productivity on the move.
Despite difficult times, MSI has been at the forefront of ensuring maximum production capacity so that the surging demands of both consumer and professional laptop users are met.
MSI offers a range of business and productivity laptops that can be a perfect companion to workers on the move. New technologies from Intel such as the 11th generation Tiger Lake processors, high-performance NVIDIA graphics, and new IT security and management features ensure a seamless and secure mobile computing experience with great battery life.
MSI business and productivity laptops support the best Windows 10 security features and productivity. "We've worked with MSI for the last 30 years, and I am excited to see MSI's modern PC portfolio expansion to the business market", says Kurt Petersen, General Manager of Device Partner Sales at Microsoft Corporation.
MSI's business and productivity offerings can be classified into three segments — Summit, Prestige, and Modern series. We will take a look at each of them below and detail how they can be beneficial in improving productivity and communication while also offering a way to wind-down after a hectic day.
Learn more about MSI's latest Business and Productivity Laptops

MSI Summit Series — The ultimate business companion
The MSI Summit series embodies several features and a neat design language that few other business laptops can aspire to. The Summit series is designed to cater to the new-age professional on the move with best-in-class performance and connectivity. The Summit lineup is available in two distinct variants, the E series and B series, both of which offer 14-inch and 15.6-inch display options. Additionally, the E series also offers a choice between FHD touchscreen and UHD display options.

Cutting-edge features for today's connected office
Modern enterprise computing has its own set of challenges. Both on-site and off-site IT deployments need to have nearly 100% uptime, should be highly secure, and provide ease of administration for IT. The MSI Summit series is built from the ground-up to address these challenges. Here are some of the ways in which MSI Summit laptops can benefit businesses:

Mobility without compromise: Tipping the scales between 1.3 and 1.7 kg, the MSI Summit series is designed to be highly portable to meet the demands of remote work. This portability is well complemented by long runtimes, with the likes of the Summit E15 offering 16+ hours of battery life and the ability to charge universally via the USB-C port.
Enhanced connectivity and storage: Summit laptops enable expansion of the work area to up to three displays at once. MSI Summit series also offers PCIe Gen4 support, enabling blazing-fast storage with a bandwidth up to 7.88 GB/s, so you can get working on your data faster no matter how huge it is.

Enterprise-grade security: The Summit series includes biometric login and identity theft prevention/encryption solutions, which are critical to protect business IP. Some of these features include a Trusted Platform Module (TPM) 2.0, Windows Hello biometric login, independent webcam on/off LED notification, and USB/SD card lock. Users can also login on supported FIDO 2 websites without having to enter a password.
MSI Summit laptops also offer enhanced high-level BIOS management features, making it easy for both end-users and IT to ensure security of business IP right from boot-up.

Secured-core PC: Secured-core is a set of deeply integrated technologies from Microsoft, OEMs, and silicon vendors that provide end-to-end hardware rooted protection from malicious code. The MSI Summit series offer three levels of Secured-core functionality. These include:
BIOS Guard that creates an isolated BIOS environment to prevent malware from attacking memory and other components.
Device Guard in the form of TPM/biometrics login and access for the PC and storage devices.
OS Guard that offers OS-level memory access protection preventing malware injection into processes currently in memory.

AI-powered Noise cancellation: In this new normal environment, interacting with colleagues from around the world can get hampered when not within the confines of an office. MSI business laptops come with MSI Noise Cancellation, an AI-powered noise-cancellation algorithm that uses a deep neural network training to filter out all unwanted background noise from vocals, so you can be assured of great voice clarity irrespective of whether you are in the coffee shop or at home.

Duet Display: While it is easy to quickly get a secondary monitor up and running while at a desk, it is not possible to do so while on the move. MSI offers Duet Display functionality via the MSI Center app that helps use your iOS device as a secondary display for a seamless productivity boost.

Modern Standby: Business users require always-connected, instant resume functionality along with long-lasting battery life similar to a smartphone. MSI business laptops offer Modern Standby that enables instant log-on, background process balancing, and power-efficient hibernation.

Military-grade stability: MSI Summit laptops comply with the MIL-STD-810G standard for extreme durability both inside the office and on the road. MIL-STD-810G testing includes military trials tested under harsh environment conditions such as extreme temperatures and altitudes as well as physical and mechanical stress such as drops, vibration, and shock.

Comfortable input: All MSI Summit series come with an intuitive keyboard that offers all-important functionality within easy reach. The keyboard offers 1.5 mm key travel for comfortable and responsive typing. The Precision Touchpad supports Windows Precision drivers and can take four-finger multitouch gesture inputs.
Optional touch displays with multitouch, fast scrolling, and pinch-to-zoom functions make navigation easier while wading through large data sets or spreadsheets.

Easy maintenance: MSI Summit notebooks are easy to administer not just by IT but also by end-users via the MSI Center app. Perform system diagnosis, optimize apps based on CPU usage, enjoy crystal-clear audio and noise cancellation, and a whole lot more with the MSI Center app.
MSI Summit E series
The MSI Summit E series is comprised of the Summit E14 and Summit E15 models. Powered by the latest 11th generation Intel Tiger Lake Core i7-1185G7 processors and NVIDIA GeForce GTX 1650 Ti Max-Q graphics, the Summit E lineup is the answer to limitation-free mobile computing. The Summit E15 features two slots of expandable DDR4-3200 memory up to 64 GB so you can multitask easily without getting bogged down by memory limitations. The Summit E14, on the other hand, supports LPDDR4X-4267 RAM up to 32 GB for better battery life.

Connectivity and storage are important aspects of any business notebook. The Summit E series offers PCIe Gen4 connectivity for ultra-fast M.2 NVMe SSD storage that can potentially offer up to 7.88 GB/s bandwidth. Being a Tiger Lake platform, the Summit E lineup offers support for Thunderbolt 4 over a USB4 Type-C port. This port also supports power delivery and DisplayPort 1.4a-out.

Both the Summit E14 and E15 offer excellent FHD and 4K UHD display options. With the Summit E15, you get a 15.6-inch 4K IPS-level panel that covers 100% Adobe RGB color space. The same panel can also be selected in a 14-inch size with the Summit E14. Both screen sizes also offer an optional FHD IPS-level display with multitouch abilities.

The Summit E15 also includes USB 3.2 Gen2 Type-A ports for added peripheral connectivity. Intel Wi-Fi 6 networking provides fast, seamless wireless connectivity at all times. In addition to the enhanced business-centric features, the Summit E series also offers an infrared webcam for safe biometric login via Windows Hello.
MSI Summit B series
The MSI Summit B series encompasses all the great features of the E series while offering more value to enterprises. The Summit B offers a fingerprint biometric sensor for enhanced security and comes in B14 and B15 variants. The Summit B lineup is based on the 11th gen Intel Tiger Lake processor and makes good use of the enhanced graphics capabilities of the integrated Xe GPU. The B Series also offers M.2 NVMe SSD support allowing for super-fast data storage and retrieval. Thunderbolt 4 via USB4 ensures seamless connectivity with a host of peripherals while also catering to power delivery and display out.

MSI Prestige Series — Where form meets function
The MSI Prestige series is designed to cater to content creators who need definitive performance whenever and wherever inspiration strikes. The Prestige series sports a beautiful design aesthetic available in several color choices that not only serves to fuel creativity but is also very durable and minimalist. The MSI Prestige series laptops offer color-accurate displays and fine-grained control over important system parameters so you can tune the laptop for just the right performance for your particular creative workflow.

Best-in-class components to let your imagination soar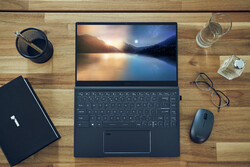 MSI offers a host of configuration and design choices in the Prestige series. These include the Prestige 14, Prestige 14 Evo, and the Prestige 15 that come in a variety of color options. The Prestige 14 and the Prestige 14 Evo are available in Pure White, Rose Pink, and Carbon Gray variants while the Prestige 15 can be had in a choice of Carbon Gray and Urban Silver options.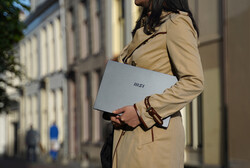 All MSI Prestige laptops are powered by the latest Intel 11th gen Tiger Lake processors with Xe graphics for accelerated creative workflows while still offering excellent power efficiency. Prestige notebooks offer excellent battery life — with the Prestige 15 offering up to 16 hours — so you can hit the road in confidence that the laptop won't give up in the middle of a critical deliverable.

MSI Prestige 14 Evo
The Prestige 14 Evo is the result of deep collaboration between MSI and Intel with an intention to deliver the highest levels of performance while not compromising on design, connectivity, and battery life. The Prestige 14 Evo, as the name suggests, is based around the Intel Evo specification, which guarantees definitive performance, instant wake-up from standby, excellent connectivity, and long-lasting battery life. The Prestige 14 Evo can last north of 12 hours on a single charge thanks to the power-efficient Tiger Lake processor and the low-power display panel. With support for quick charge, the Prestige 14 can be topped-up to 70% charge within just an hour of being plugged-in.

The Prestige 14 offers next-gen connectivity to ensure your creative workflow goes unhindered. You get a PCIe Gen4 SSD with data transfer rates up to 5 GB/s, Thunderbolt 4 via USB4 for seamless data, display, and power delivery for a multitude of supported devices, and Wi-Fi 6 for fast, high-efficiency networking. The Prestige 14 also offers Windows Hello-compliant logins, has passed MIL-STD-810G testing, and it is also part of the FIDO alliance making it perfect for creative professionals who take their business with them.

MSI Modern Series — Your everyday workhorse
It is not just enterprises that would require the bleeding edge in technology. Small businesses and everyday PC users also stand to benefit from these innovations. The MSI Modern series caters to the needs of these people without much compromise. Right from the design to the color choices, the Modern series is built to turn heads wherever you take them.

Enhanced productivity features for everyone
Like the Summit and Prestige series notebooks, the MSI Modern series also takes advantage of the performance and power-efficiency improvements brought forth by Intel Tiger Lake processors with built-in Xe graphics. While Xe graphics in Tiger Lake is capable-enough for most common workloads, including some light gaming on the move, the MSI Modern series goes a step further and offers the NVIDIA GeForce MX450 as well for extra power in apps that can make good use of a discrete GPU.

MSI Modern laptops optionally offer True Color factory-calibrated displays with guaranteed color gamut coverage close to 100% sRGB. Users can select between five color modes for comfortable viewing depending on the scenario. The latest version of True Color brings even more accuracy and an improved user-friendly UI.
Also available are a host of ports including Thunderbolt 4 over USB4, HDMI out, USB 3.2 Gen1 Type-A, USB 3.2 Gen2 Type-A, and a microSD card reader so as to cater to all your peripheral expansion needs. Seamless wireless networking made possible by Intel Wi-Fi 6 with Bluetooth 5.1 ensures that you are always connected wherever your work takes you. All Modern series laptops feature an excellent keyboard that offers a great typing experience and easy access to most common controls.
MSI Modern series laptops are rated to offer a battery life of 10 hours and above so you can work in peace without having to worry about the system shutting down in the middle of work. Whenever needed a quick one hour charge will give 70% battery life for uninterrupted productivity. MSI Modern series incorporate truly modern features such as Modern Standby, Fast Charging, and Hi-Res Audio with Nahimic.
All Modern series laptops have passed the rigorous MIL-STD-810G durability testing so you can rest assured of their reliability even in otherwise disastrous working environments.
All the features combined in the MSI Center app, for easy system tuning and diagnostics, makes the MSI Modern series a must have for taking your work mobile. The MSI Center app includes intuitive features such as Battery Master that allows for setting four different charging modes to improve battery lifecycle along with a battery calibration function. The MSI Center app also offers a System Checker tool that shows system health at a glance, including SSD usage and health status.

MSI Modern 14 and Modern 15
The MSI Modern series not only performs well but also comes in a variety of suave sandblasted color choices. The Modern 14 and Modern 15 come in three color variants — Carbon Gray, Beige Mousse, and Bluestone. Go for a minimalist, understated yet distinct look with Carbon Gray that offers the right vibes for a mystery evening. Savor yourself to sun-kissed vibes with Beige Mousse, a perfect color option when creativity strikes on a sunny afternoon. Or, choose Bluestone for times when thoughts and inspiration strike that mirror a clear blue sky.
No matter your design tastes, there is an MSI Modern laptop for perfectly complimenting your thoughts and ambience for that extra impetus for creative inspiration.

MSI Business and Productivity portfolio — Ready for the modern enterprise
MSI has always been at the forefront in offering cutting-edge solutions for the demanding needs of businesses and professionals worldwide. The new MSI Business and Productivity line brings updated technologies along with added security and improved battery life to help users have a seamless transition to remote working.
Business users who want the very best will be aptly served by the MSI Summit series. With up to a 16-hour battery life (on the Summit 15), high-end 4K UHD display options, seamless wireless connectivity via Wi-Fi 6, and enhanced peripheral connectivity via Thunderbolt 4, improved security, and ease of IT management, the Summit series really epitomizes the summit of business notebooks.
The MSI Prestige 14 Evo caters to creative professionals who value both form and function. Thanks to Intel Evo-based standardization, users can expect consistent performance and battery life for longer periods compared to conventional laptops. Performance optimizations and power-efficiency improvements in Tiger Lake processors with Xe graphics ensure that apps work great whether the device is plugged-in or on battery.
The MSI Modern Series brings a majority of the benefits found in the Summit and Prestige series to everyday computing. The Modern Series devices are designed to be extremely portable with excellent displays, a variety of connectivity options, easy upgrades, and long-lasting batteries. Even though these are designed to be everyday laptops, MSI has ensured that they still adhere to the highest quality parameters.
Whether you are a business professional who values top-of-the-line performance and cutting-edge security, a creative professional who appreciates long hours away from the socket, or someone looking for enhanced productivity for your small business or everyday tasks, you can count on MSI to offer just the right laptops for your needs.
Learn more about MSI's latest Business and Productivity Laptops
Powered by MSI | Made for Gamers and Creators
I am one of the founders of Notebookcheck, which I dedicated myself with after my studies at the Vienna Technical University were completed. Computers have been an integral part of my daily activities since the time of the Commodore C64 and Atari 1040ST. Besides new technologies such as electric mobility and environmental technology, I am also interested in architecture and construction engineering.