Rumour | Samsung fuels theories that the Galaxy S9 and S9 Plus have had their One UI 2.0 and Android 10 updates rescheduled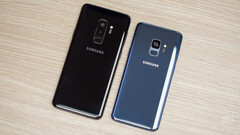 The Galaxy S9 and S9+ have been eligible for beta versions of One UI 2.0, Samsung's custom version of Android 10, for months now. The arrival of Android 10 on the Galaxy Note 9 brought hope to the idea of Samsung honouring its January release schedule for the S9 series too, but that no longer appears to be the case.
One UI 2.0, Samsung's in-house version of Android 10, has already reached multiple devices. Unsurprisingly, the Galaxy S10 and Note 10 series were the first to taste Android 10, with their predecessors supposed to be following suit soon afterwards. Samsung started issuing One UI 2.0 to the Galaxy Note 9 at the turn of the year, which only left the Galaxy S9 series to be upgraded before the South Korean company moves its recent Galaxy A handsets.
Samsung's One UI 2.0 roadmaps for various regions stated that the Galaxy S9 and S9 Plus would start receiving their upgrades this month too. While this now appears unlikely, SamMobile reports that the company is still claiming a January 2020 release date in some markets like the Netherlands.
However, a new roadmap circulating online now lists the start date as February. Keep in mind that Samsung is yet to confirm the delay, nor has SamMobile stated what region to which this roadmap applies. Shifting the initial rollout to February does not necessarily mean a month's delay either, as it could begin as early as this weekend.
Either way, it may irk some S9 series owners that their handset will receive Android 10 over a month after the Galaxy Note 9. Worse still, One UI 2.0 probably marks the end of the road for the Galaxy S9 and S9 Plus, seeing as Samsung is persisting with its two OS upgrades policy even with its flagship smartphones.