Samsung prompts speculation that the Galaxy S8 and Note 8 will receive One UI 2.0 and Android 10 after all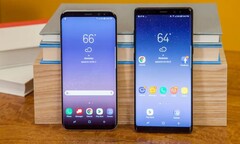 Despite not being officially confirmed, the Galaxy S8 and Note 8 appeared to have missed the cut for upgrades to One UI 2.0, Samsung's custom version of Android 10. While some people had accepted the notion of their two-year-old handsets remaining on Android 9.0 Pie, Samsung has fuelled speculation that both could yet receive Android 10 at some point this year.
Last year, several roadmaps spotted by SamMobile and XDA Developers indicated that Samsung would not releasing One UI 2.0, its in-house version of Android 10, to devices that it had released over two years ago. Two years is the minimum period that Google requires Android OEMs to release updates to their handsets, although this only extends to security updates. Hence, it seemed that Samsung had left the Galaxy S8, S8 Plus and Note 8 on Android 9.0 Pie, the first version of One UI.
However, the company has now teased that its former flagships are eligible for Android 10. Published on Reddit and provided below, a Samsung representative has been screenshotted as writing:
Please note that these two models are eligible to receive the new Android 10 version
Deployment will take place during this year 2020
Admittedly, the original poster has not provided any proof that this was written by a real Samsung Customer Service representative. Even so, the word of one representative does not necessarily mean that Samsung will follow through and deliver Android 10 to the Galaxy S8, Note 8 or by extension the S8 Plus. Their predecessors remain stuck on Android Oreo, for example, while Samsung has even been taken to court in the Netherlands over its two-year update policy. Hence, do not get your hopes up yet if you own a Note 8, a Galaxy S8 or an S8 Plus.