A Samsung Galaxy S8 reportedly helps avert a potential tragedy at sea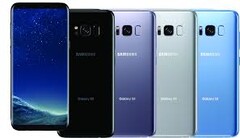 According to a new report, a Canadian citizen was able to call for help for himself and his island-hopping fellow tourists using his Samsung Galaxy S8, the only device that apparently survived when their boat capsized off the coast of the Phillippines. The victims of this event were also able to signal their location using the phone's GPS.
A Samsung Galaxy S8 was reportedly the hero of the hour following an accident at sea. This phone apparently belonged to a Jim Emdee, one of 16 divers visiting the Filipino province of Cebu in a boat. The vessel capsized off Bogo City in this area, landing these tourists and 4 locals in the water.
Fortunately, however, Emdee was able to recover his Galaxy S8 - which is rated to withstand a dip in fresh water of a depth of 1.5 meters for up to 30 minutes - from the sea following the incident. The group found that, of all the devices brought on board, only this phone still functioned. The Canadian and his companions used it to call for help.
The S8 was also capable of beaming its GPS co-ordinates so as to guide emergency service personnel to the group's location. Emdee now reportedly credits Samsung with potentially life-saving engineering in this case. In addition, James Jung, a Samsung Electronics Philippines representative, is quoted as saying, "We are glad to hear that the passengers are all safe, and that a Samsung phone was helpful in the rescue effort. We will continue to work towards producing devices that can come to users' aid when they find themselves in dire situations."