Pokémon trainers can team up with Professor Oak and Mew in the latest Pokémon Masters update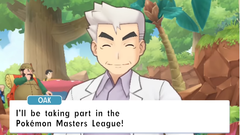 The latest update for Pokémon Masters, a popular mobile game that takes place in the Pokémon universe, introduces Professor Oak and Mew as a sync pair. Players that complete the game's tutorial by March 15 will unlock the pair, as well as extra content surround the Pokémon Prof's character.
Professor Oak, I choose you!
An update for the mobile game Pokémon Masters that drops today introduces Professor Oak and the legendary Pokémon Mew as a new sync pair, allowing budding Pokémon Masters to team up with the Pokémon Prof on their way to the Pokémon League.
Players will need to complete the tutorial of the game by March 15th in order to unlock Professor Oak and Mew. This will also unlock a story explaining how the pair met up as well as some additional content surrounding the character.
In addition to unlocking Professor Oak and Mew, players will also be able to scout for Steven and Metagross. Steven debuted in the third generation of Pokémon games (Pokémon Ruby, Sapphire, and Emerald) and served as that games optional final boss. His most powerful Pokémon was Metagross, a pseudo-legendary known for its brutally strong Meteor Mash move.
The update for Pokémon Masters is available today. The game can be downloaded on iOS and Android.