Back in January this year, we reported about FanlessTech's revelation that Panther Canyon would be the NUC 11 Performance PC powered by Tiger Lake-U. Along side the NUC 11 Performance PC, an NUC 11 Extreme variant codenamed Phantom Canyon is also on the anvil powered by a 28 W Tiger Lake-U CPU and a discrete GPU with 6 GB or 8 GB VRAM. Now, we are getting to know that the Phantom Canyon with 6 GB VRAM would, in fact, feature an NVIDIA GeForce GTX 1660 Ti GPU.
The Phantom Canyon NUC 11 Extreme recently showed up on the 3DMark Time Spy database, and it was quickly spotted by noted leaker @_rogame. According to the 3DMark entry, the NUC 11 Extreme PC is shown featuring a Tiger Lake-U processor with a base clock of 2.3 GHz and a boost clock of 4.4 GHz. The benchmark records that this system is using a GTX 1660 Ti (the 80 W laptop variant). The CPU score of 4,590 points is just 160 points short of what a Core i7-1165G7 with a 2.8 GHz base clock scores in the same test. @_rogame believes, therefore, this entry could be that of a 28 W Core i5 Tiger Lake-U engineering sample.
This is not the first sighting of the combination of a Tiger Lake-U CPU and a GTX 1660 Ti. Previously, the same leaker shared a Geekbench 4 OpenCL result, which indicated a 1.8 GHz Tiger Lake-U chip alongside the GTX 1660 Ti.
Separately, another 3DMark entry showing a Tiger Lake-U with 4.4 GHz boost was also spotted by @_rogame. The boost speeds are definitely higher than the Core i7-1068NG7 Ice Lake while the base clock looks to be tailing behind the Core i7-1165G7 Tiger Lake further confirming this could be a Core i5 Tiger Lake-U.
While we now know that one of the NUC 11 Extreme variants will feature the GTX 1660 Ti, there is still no information as to which 8GB VRAM GPU would be the other option. Going by the chassis, we can expect something on the lines of a 28 W Core i7 Tiger Lake-U in combination with an RTX 2060 mobile or an 80 W RTX 2070 Super Max-Q GPU. Either ways, both GPUs present an interesting prospect for the NUC 11 Extreme as a capable gaming machine.
FanlessTech noted earlier that the release of the Phantom Canyon and Panther Canyon may get delayed due to the ongoing COVID-19 pandemic, but we expect them to launch sometime later in 2H 2020.
Sale off - Buy Desktop Acer Nitro 50, Core i7-9700, RTX 2060 now on Amazon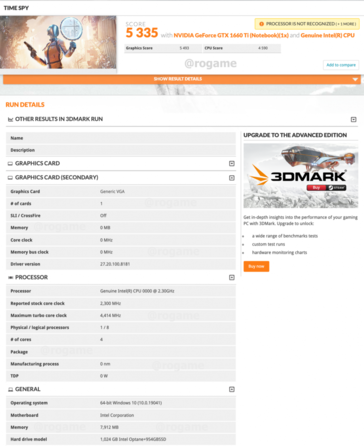 Though a cell and molecular biologist by training, I have been drawn towards computers from a very young age ever since I got my first PC in 1998. My passion for technology grew quite exponentially with the times, and it has been an incredible experience from being a much solicited source for tech advice and troubleshooting among family and friends to joining Notebookcheck in 2017 as a professional tech journalist. Now, I am a Lead Editor at Notebookcheck covering news and reviews encompassing a wide gamut of the technology landscape for Indian and global audiences. When I am not hunting for the next big story or taking complex measurements for reviews, you can find me unwinding to a nice read, listening to some soulful music, or trying out a new game.