POCO F1 gets a new software update, but it reportedly breaks notch-hiding feature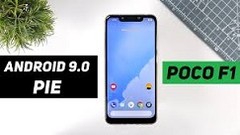 The Xiaomi POCO F1 has reportedly received an update to official stable Pie, following a recent beta to test the same. However, it's not all good news for fans of the device: some users have claimed that it no longer includes an option to hide the notch in the UI. The update has brought other apparent problems, most notably unusual battery drain.
Recently, the POCO F1 gained access to an official stock version of the latest version of Android, with 960fps recording and other tweaks, via a company-released beta ROM. Now, the first device under the new Xiaomi sub-brand has a fully stable upgrade based on this OS. However, many users have raised complaints that the update has many unexpected bugs and issues. The most potentially serious of these is the fact that an option to disguise the phone's notch in Settings has reportedly disappeared.
This new dearth of notch-hiding may also mean that users face difficulty in using content such as games or movies in full-screen mode. Additionally, some users have claimed that the new update has resulted in severely reduced screen-on time for their POCO F1s. These customers have taken to Twitter and other resources such as the XDA forum to air their grievances. In fairness, Xiaomi's response to these complaints have been described as timely and attentive.
The company has fixed a number of other issues related to the new update to Pie. They include problems found in the earlier beta, which included a lack of compatibility with Asphalts 8 and 9, the absence of an appropriate battery icon while charging and missing icons in notifications. However, the other problems that POCO F1 users have highlighted are still due a fix (at the time of writing).