OnePlus' 2nd-gen Crackables puzzle game comes with a US$10,000 top prize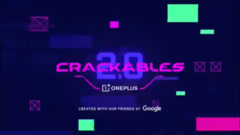 The official OnePlus Twitter channel has released a trailer for Crackables 2.0, a new version of a game premiered last year by the electronics OEM. This year, it is presented in partnership with Google, and consists of a series of puzzles, the fastest solvers of which will be invited to compete for the title of best player and US$10,000.
OnePlus introduced a new challenge for its community of fans last year. Crackables was a series of speed-focused puzzle-games complete with its own bosses and protagonist ("Crax"). Now, it has returned in 2020 on what can be termed a larger scale - particularly in terms of prizes.
This time, the game's maker has collaborated with Google to host Crackables 2.0 and reward its top players. These partners have announced that the game's winner stands to gain $10,000 in prize money, an amount that will be matched in a corresponding charitable donation.
The game will take place over 4 rounds this year, which will consist of individual puzzles, followed by a "community" stage. This will result in the identification of the 10 fastest players, who will go on to compete for the main cash prize.
That event (the Crackables 2.0 Grand Finale) is scheduled for 7 May, 2020. It will be live-streamed and, according to OnePlus, hosted by "influencers". Potential participants can register for the game from now using their Google account of choice. Their games will begin on April 14, 2020 - the same day on which the new 8 flagship phone series from this company is to launch.