One of LG's upcoming 'Amazon.in Specials' gets leaked prior to launch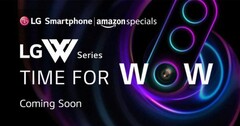 LG intends to release its new mid-range smartphones, the W series, as Amazon exclusives in India. However, one variant of this series, the W10, has allegedly surfaced on the Android Enterprise database. It shows that the phone may have 3GB of RAM, 32GB of internal storage and run Android 9.0 (Pie).
A promotional campaign observed on Amazon India indicates that LG has new mid-tier smartphones to sell in 2019. They are known as the 'W-series' of devices, and are clearly depicted as photo-centric products that may compete with the Samsung Galaxy M line.
LG clearly hoped to keep anticipation for its new products high by keeping them under wraps and only releasing teasers on their intended platform thus far. However, a new leak may have derailed that particular hype-train somewhat.
Tipsters now claim to have found a phone called the LG W10 on the Android Enterprise Program's website. It shows a phone that looks much like the G7 Fit, and is listed as having 3GB of RAM with 32GB of internal storage. It also runs Android 9.0 (Pie), has a fingerprint scanner and a 6.2-inch screen.
These slightly underwhelming specs may make interested LG fans rather glad that these new phones are already touted as exceptionally pocket-friendly. On the other hand, there may yet be more to this series; for example, they are also known to come with triple rear cameras. In addition, it is also now rumored that at least one W-series variant will come with a octa-core processor clocked at 2GHz, a 4000 mAh battery, as well as LG's BoomBox-grade speakers.