Early analysis suggests Amazon did very well on Prime Day 2019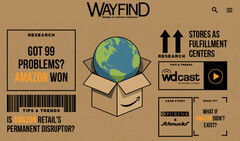 Prime Day 2019 is now over, and the stats on it are rolling in. Preliminary analysis published by WD Partners show that the online traffic to the retail site for the event's 1st 24 hours increased 100% compared to the same averaged over the preceding 5 days. This may contribute to the US$400+ billion in takings projected for the company this year.
Google Trends data now indicates that Prime Day 2019 attracted 100% more traffic in its 1st 24 hours than the whole 5 days (on average) prior to the event. Then again, this year's sale lasted 2 days (despite its by-now traditional name), whereas its 2018 counterpart only spanned a day and a half.
Nevertheless, WD Partners now hypothesizes that the online sales giant has established a distinct dominance over the retail landscape, in the US at least. Research has found that 15,000 retail stores (of the conventional brick-and-mortar kind) had closed by 2017; furthermore, 75,000 more are projected to do the same by 2026.
Meanwhile, other estimates indicate that Amazon's revenues will grow by 26% this year, so that the company will have amassed a total of US$484 billion by the end of the year. At present, there are few solid theories as to how other retailers can respond. One solution may be to mimic the sales giant's online-sales model, while simultaneously converting physical stores into facilities more like fulfilment centers.