Next-gen console prices and release dates allegedly leaked with Microsoft's Xbox Series X and S taking very strong positions against the PlayStation 5 consoles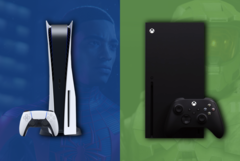 Alleged next-gen console prices and release dates have been shared online, with the commentator in question claiming that the vital details are "according to latest news (more than a rumor or speculation". The social media user in this case is Roberto Serrano, who claims to have some sources providing him with this sensitive information about the PS5 and Xbox Series consoles. Serrano has been burned in the past in regard to posts made about the PS5 price and pre-order date, so of course it would be wise to take the following details with a pinch of salt.
According to Serrano, Microsoft will be first to release its next-gen consoles, with the Xbox Series S stealing the limelight on Thursday, November 5, immediately followed by the main event on Friday, November 6 with the launch of the Xbox Series X. This actually ties in conveniently with a recently leaked Xbox controller warranty that points to these dates. Sony supposedly will wait another week before launching the PS5 regular console and Digital Edition on Friday, November 13. A previous leak from a similarly contentious source stated a November 14 release in Japan first for the PS5 followed by a worldwide release on November 20.
This gives Microsoft a full week to wow the world with its powerful next-gen consoles and capture the interest of those all-important brand-blind shoppers. However, it would take more than an earlier release to completely entice that customer group, but if Serrano's claimed console prices are genuine, then the Xbox has the edge. Apparently the Xbox Series X will cost US$499/€499 while the Xbox Series S will be priced at the very attractive point of just US$299/€299 (Serrano initially states "399" but corrects to "299" in a following post). In contrast, the PS5 prices will supposedly be US$499/€499 for the model with a disc drive and US$399/€399 for the Digital Edition.
| | PlayStation 5 | PlayStation 5 DE | Xbox Series X | Xbox Series S |
| --- | --- | --- | --- | --- |
| Release date | November 13 | November 13 | November 6 | November 5 |
| Price | US$499/€499 | US$399/€399 | US$499/€499 | US$299/€299 |
If these are the true prices for the next-gen consoles then they put Microsoft in a very strong position against Sony. Neutral customers, especially those on a tighter budget, will be delighted at being able to buy a powerful next-gen console in the form of the Xbox Series S for just US$299/€299. Sony may rely on its strong PlayStation brand loyalty for healthy sales, but you would think the company would be tempted to price the regular PS5 lower than the Xbox Series X due to the difference in perceived power and performance. If the two are priced at the same point, then it seems reasonable to believe that brand-blind shoppers will plump for the Xbox Series X. In these circumstances, a later release date for the PS5 could work for Sony in regard to potential last-minute price-slashing maneuvers - presuming the company would be willing to accept the additional financial loss this strategy would incur.

My interest in technology began after I was presented with an Atari 800XL home computer in the mid-1980s. I especially enjoy writing about technological advances, compelling rumors, and intriguing tech-related leaks. I have a degree in International Relations and Strategic Studies and count my family, reading, writing, and travel as the main passions of my life. I have been with Notebookcheck since 2012.