New update affects the OnePlus 6's battery performance, and not in a good way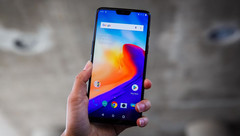 The OxygenOS 5.1.6 and 5.1.8 updates to the OnePlus 6 has caused a number of users to experience weird battery behaviors, with some claiming their devices now offer half the regular screen-on time.
While OnePlus is usually timely with its OxygenOS security updates, every so often, these updates bring minor bugs. The latest update brought one such issue, although only a few would call it a minor matter.
According to users on OnePlus's official forums, the OxygenOS 5.1.6 and 5.1.8 has a bug that negatively affects the devices' batteries. Going by the posts, users now see half of their normal screen-on time, without making any changes to their usage patterns. Some also claim that their devices went off even when the battery counter was over 50% charged. There are also supposedly issues with random camera app freezes.
These claims aren't novel, in any case. Last week, users in India already filed reports of instability with the 5.1.6 update on the OnePlus 6, which prompted the company to not send the 5.1.7 update to users in that region.
Users of the OnePlus 3T have also reported issues with phone battery deaths at 15% without warning. Hopefully, OnePlus sends out an update fixing all of these soon.