New Google Home Hub: the smart-home ecosystem gets its own screen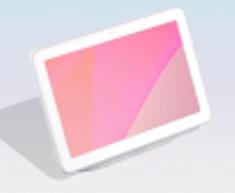 The Home Hub is the newest form of domestic voice assistant from Google. It has been revealed as part of the Made by Google event, along with the new Pixel phones and Pixel Slate. The Hub is supposedly designed to subtly blend in with a home, while forming a central control point for its connected devices.
The Home Hub was the 'assistant' product niche's contribution to the Made by Google event of earlier today (October 9, 2018). It is Google's first smart speaker to also include a screen. It resembles a tall irregular cone on which this display is mounted. This cone is finished in the same fabric-like material as the other Google Home speakers. The dimensions of this component were not mentioned during its presentation; however, its rounded corners and somewhat pronounced bezels recall the Samsung-made Nexus 10 tablet somewhat.
The Google Home Hub displays the information Google Assistant can find on its screen, for a start. It also has Ambient EQ, which allows it to use its front-facing sensors to assess the available light in the room. This adjusts the screen's brightness so that it is not too intense or obtrusive at all times. The Google Home Hub can also detect and control all smart or smart-capable devices in the home, and control them by itself. They include obvious things like smart bulbs, but also things such as Nest thermostats and some newer General Electric products. They are all shown and are adjustable through 'Home View' menus and options.
The Google Home Hub also has the ability to go through all pictures uploaded to Google Photos. Its AI chooses the best and most relevant of these, and sorts them into categories called Live Albums for viewing throughout the day. This means that, for example, pictures taken on a trip will be waiting on your Home Hub by the time you get back.
The Home Hub will start at US$149 on Google's online store. It will also be available in physical stores in some markets.