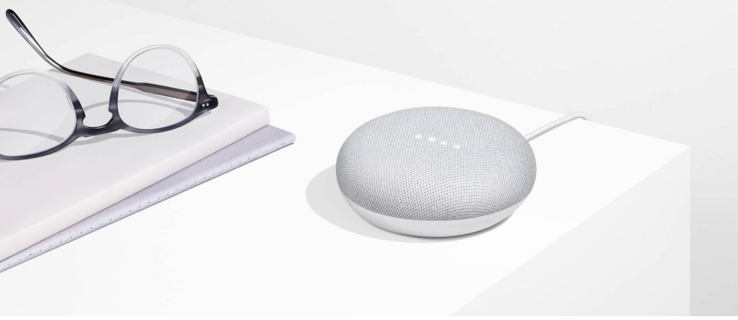 Google was a little slow at launching its smart speaker - the Google Home and Google Home Mini have only been available since August 2017 (in Europe), while the Amazon Echo was already launched in October 2016. It is no surprise, therefore, that Amazon is still the market leader with its assistant Alexa, and that the intelligent assistant is now being used in more and more external devices as well. We tested the Amazon Echo Dot last year and are now going to take a look at the Google Home Mini. The small speaker costs $49, the larger Google Home is priced at $129, but both basically have the same functionalities. In the US, you can also purchase the Google Home Max for $399. This features two woofers and custom tweeters and can automatically adapt its sound to suit the acoustics of its surroundings. The Google Home Max has not yet been announced in Europe.

The compact, intelligent speaker Google Home Mini can be controlled via touch commands on its surface and can be configured with your smartphone and the Google Home app. We have taken a closer look at voice recognition, privacy and sound quality in our review. These are areas in which the Amazon Echo Dot was not entirely convincing.

Google has made the Home Mini available in three colors that all cost the same but cannot be purchased everywhere. The coral version is available exclusively through the Google Store, while the charcoal and chalk versions can be bought everywhere. Our test device was the chalk version in white and gray. The bottom area is rubberized, so that the Google Home Mini stays put even on slightly sloping surfaces. The case has good workmanship and is very robust. It does not react to light pressure and we did not hear any creaking noises either. The design is minimalistic and fits into any home.

The Google Home Mini is noticeably larger than Amazon's Echo Dot: It is one centimeter (~0.39 in) higher and 1.5 cm (~0.59 in) wider. It also weighs 10 grams more than Amazon's small speaker. Like the Echo Dot, the Google Home Mini also has a light status signal, although this is hidden below the surface and only visible when turned on. Amazon's speaker generally gives a more "technical" and less high-quality impression while the Google Home Mini is definitely the trendier device, suitable for fancy homes while the Amazon Echo Dot might be more interesting for techies.

Connectivity
The Google Home Mini has a Micro-USB port that functions as power supply. This is the only physical port the device offers; there is no 3.5-mm audio jack. The small speaker supports 802.11 b/g/n/ac for its Wi-Fi connection as well as 5-GHz networks. It uses Bluetooth 4.1 to connect to other audio devices or when first pairing with a smartphone. Google has integrated the Chromecast and Chromecast Audio technology in order to easily stream content to the Google Home Mini from compatible Android apps.

The Google Home Mini does not have a battery, so it always needs to be connected to a power supply.

Privacy
The Google Home Mini basically has to have the internal microphones turned on and be listening constantly in order to fulfill its main functions: Answering users' questions and doing jobs for them. However, this data should only be recorded and transmitted to Google's servers when a certain codeword is said.
The Google Home app on the smartphone or tablet plays an important role in the set-up and configuration of the device as the Google Home Mini does not have a screen. This way, the Google Home app transfers information about your own Google account to the speaker, which can then store and use this information. By the way, you can use this link to find out what Google knows about you. You can also delete entries and find a link to the privacy settings of your Google account. If you have turned off certain aspects of data transfer to Google, the Home Mini will ask you to activate them during set-up, as otherwise you cannot use the smart assistant function. This includes web and app activities such as Google searches or routes in Google Maps. Device information such as contacts, calendar etc. also needs to be stored with Google. Of course, you have to allow the transmission and storage audio files. If you previously set your Google account to pass on as little data as necessary and do not want to activate these settings, you will only be able to use the Google Home Mini as a Bluetooth speaker without any smart functions.

We have already contacted Google about their privacy policy previously but never received an answer. We assume that the data is sent to Google's servers unencrypted and that the servers do not necessarily have to be standing in your own country. Google remains rather vague in its privacy policy and just refers to "Google servers".

Data protection with the Google Home Mini. Hold on - was there not a small related scandal? Correct. In October, testers noticed that Google's Home Mini suddenly started reacting to language coming out of the TV, although nobody had said the codeword "OK Google". This was because the Home Mini can also be activated via a touch area on the top of the device, and the touch sensor for activating voice recognition was malfunctioning. Google has still not found a solution for this issue and has instead deactivated the touch sensor for voice recognition. At least Google has deleted all audio files that were accidentally recorded. The microphones can be turned off via a hardware switch, by the way, which makes the LEDs on the top of the Google Home Mini go orange and you hear a confirmation that the microphones are off.

Users of a smart speaker should be aware that personal data is passed on to Google and that it can be stored there. At least with Google you have the possibility to easily see this data and to delete it. You should always let guests and visitors know that you have a listening speaker as not doing so could even lead to legal problems.

Operation
The small speaker is connected to Wi-Fi during initial set-up via the Google Home app - login data is transmitted automatically. The device also stores information about your own Google account, so that this information can then be connected to your voice commands on Google's servers. Setting up the speaker is quite simple and goes quickly; Google Home also supports the user by giving command examples.

After the set-up, the smart assistant reacts to the codeword "OK Google" or "Hey Google" and then waits for a command. The voice recognition is very exact and reliable even in larger rooms. When the Home Mini is controlling a device, it can even automatically reduce the volume while a voice command is given, so that the microphone can understand it better. The Google Home Mini usually reacts to every user, and you can also teach the device to recognize individual users by their voice.

The Google Home Mini can control other devices via Wi-Fi - for example Chromecasts. You can stream things to the Google Home Mini from your smartphone or tablet, for example a Spotify or Deezer playlist. Of course, all Google services work together seamlessly and you can ask the Home Mini how long it will take you to get to a specific place by underground, for example. The answer comes quickly and is usually correct. You can even combine questions - for example "How long do I need to get to the Olympia Mall with the underground?" and then "How long do I need by car?" - and the assistant will give you the correct answer.
A disadvantage compared to Amazon's Alexa: Google Home does not (yet) have any skills - these are capabilities designed by third-party developers that can be individually installed by the user. For example, you currently cannot use Amazon Prime services with Google Home. Amazon has already created a lively community of small developers who are constantly creating new services for the device - Google had better catch up quickly.

Similar to the set-up, you can use your smartphone or tablet to make changes to the device via the Google Home app (which is also available for Apple devices, so you do not necessarily need to have an Android device). The configuration options include a "guest mode" in which users can control the Google Home Mini from outside their home Wi-Fi connection after putting in a PIN code. You can also tell the device to beep confirming voice recognition or to lower volume and brightness at night.

While Amazon's Echo Dot has clearly visible operating buttons, the only immediately visible switch on the Google Home Mini is the microphone-off switch on its side. This also means that the Echo Dot is easy to use right out of the box, without reading any user manuals or set-up guides, while the touch sensors on the Google Home Mini first need to be explained.

A core function of the smart speaker is to control other smart devices in your home. Of course, you can use Google's own Nest series of Smart Home products, but the Home Mini also supports devices such as the Philips Hue and manufacturers such as Gigaset or Homematic. You can find a list of supported partners on this website. As there are no skills to add, you have to rely on the cooperation of Google and its partners and we would recommend finding out if your own Smart Home components are compatible with Google Home before purchase.
There are usually no problems turning devices on and off and you can set up times for lights or the heating to go on and off. But overall, we must say that due to the collective intelligence working on skills for Alexa, the Amazon competitor often has a lot of practical capabilities for single devices that the Google Home cannot offer yet. An advantage of Google: The voice recognition is a lot more flexible with commands. For example, you can say "lamps" instead of "light" and commands such as "put on the lights" or "turn on the lamps" both work equally well. The response times to voice commands are also very fast and you get prompt results.

Temperature
The case of the Google Home Mini only heats up minimally and you will have no difficulties touching it even after a prolonged period of use.
Speakers
Another important detail for a smart speaker such as the Google Home Mini is...well, the speaker itself. Audio files can be streamed to the device via Bluetooth 4.1, either via the streaming symbol that the Google Home app shows in compatible apps, via the Chromecast function or simply via a normal Bluetooth connection. You will still need the Google Home app in order to connect to Bluetooth, as this is the only way to activate Pairing mode.
The Home Mini has a speaker with a 40 mm driver. The sound is decent and can even fill large rooms when the volume is turned up. At maximum volume, however, music is a little imbalanced with strong highs and weak bass frequencies, which makes it sound a little tinny and some listeners will find the highs uncomfortably loud. Overall, the sound is what you would expect from a Bluetooth speaker of this price: Fine for everyday use, but it is not good enough for real music enthusiasts.

The Google Home app also offers an equalizer function for the Google Home Mini; however, we could not create a noticeable difference with this function.

Pros
+
very flexible and reliable voice recognition
+
a lot of configuration options
+
fast response to commands
+
also compatible with iOS
Cons
-
concerns regarding data protection
The Google Home Mini is a very good-looking, well-made smart speaker that would work well in any apartment. The simple design is a lot more appealing than that of the Amazon Echo Dot, the operation via touch areas on the top of the speaker is cool but needs some explanation - the Echo Dot is more intuitive.
The voice recognition works very well in Google's small speaker, and it also recognizes more unusual commands and can connect questions logically. Controlling devices works reliably, although there are fewer options compared to Amazon's Alexa due to the missing option for third-party skills creation. The sound is decent, although audio enthusiasts might prefer a higher quality speaker.
Elegant with fast and very precise voice recognition: The Google Home Mini is a nice smart speaker. The sound quality is good for this price, as well, but device control only works with compatible devices.
You should be aware of the information you pass on to Google by using the Google Home Mini, as well as the fact that Google could theoretically stop offering its voice recognition service at any time. But these problems are the same with all smart devices and at least Google lets you configure your privacy settings easily and in a lot of detail as well as delete your data easily.
Overall, the Google Home Mini is of course the best choice if you already use a lot of Google services in your day-to-day life and have compatible Smart Home devices. Devices with Alexa offer more skills, which makes them more flexible, and they also support more devices while Google's supported devices are currently limited to certain partners. Instead, Google offers noticeably better voice recognition and more attractive devices.
I initially wrote about gaming laptops when I joined Notebookcheck in 2009. I was then involved with the setup of the comparison portal Notebookinfo and worked with social media concepts for large companies like BMW and Adidas, while also returning to work for Notebookcheck in 2012. Nowadays, I focus on smartphones, tablets, and future technologies. Since 2018 I have been Managing Editor for mobile device reviews, working alongside my colleague Daniel Schmidt.
I completed my master's degree in translation at the University of Vienna a few years ago and have been working as a translator for English, German and French ever since. I first started translating for Notebookcheck in 2017 and have learned more about computers than I ever imagined, and I have even become the person my family turns to for advice when it comes to consumer electronics. Other than that I also focus on everything connected to sustainability and renewable energy.