Meizu announces a new member of its 16 flagship smartphone series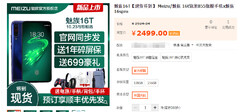 The OEM Meizu has released teasers for a new phone, the 16T, on Weibo. It will have the same SoC (the Snapdragon 855) as its siblings, the 16s and 16s Pro. However, it will also have a bigger screen and battery compared to these pre-existing variants. The Meizu 16T will launch on October 23, 2019 for the equivalent of US$352.
The Meizu 16 line consists of Snapdragon 855-powered devices released by an OEM that prefers optimally reduced top and bottom bezels to punch-holes, pop-up selfie cameras or notches. Now, it is preparing a further variant of the resulting phone for sale. This one is a T version, an idea the company may have picked up from OnePlus.
This 16T has a high-end SoC, as well as 6GB or 8GB RAM options with either 128 or 256GB in internal storage. However, Meizu apparently intends to direct it at younger consumers rather than have it be a full-scale series refresh. To this end, it has a larger FHD+ 6.5-inch AMOLED display with an 18.5:9 aspect ratio. It also has triple rear cameras, albeit with a 12+10+5MP configuration.
This reasonably spec'd 16T has come to light as a result of a teaser released by Meizu representatives, listing some English-language attributes beginning with T to draw attention to the phone. The nature of this new 16T's rear panel is made less clear, although it is shown in blue in one of its teasers. The OEM has also revealed that it will launch on October 23, 2019 and cost 2499 yuan (or about US$352).