Rumor | Intel should be worried again: AMD Zen 3 IPC gains rumored to be greater than 8% with up to 200 MHz increase in clocks compared to Zen 2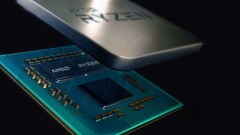 The AMD Zen 3 microarchitecture is expected to debut sometime in 2020 and going by recent rumors, it could offer IPC gains up to 8% (possibly, more) and up to 200 MHz faster clocks. Zen 3 will also offer 8 cores per chiplet with 32 MB or more of L3 cache. These improvements can further reduce latency and could turn out to be enticing for gamers.
Even with Zen 2 still relatively fresh from the oven, AMD had recently revealed a few details about its upcoming Zen 3 "Milan" and Zen 4 "Genoa" microarchitectures pertaining to the EPYC lineup. While AMD didn't delve into the kind of improvements Zen 3 would bring over the current Zen 2 architecture, RedGamingTech cites insider information about the kind of IPC and clock speed improvements that can be expected from Zen 3.
It all started with a forum post by a member named 'Zoo' on the ChipHell forum who claimed that an early Zen 3 engineering sample was able to hit 100 to 200 MHz higher clocks than Zen 2. Zen 3 is also expected to bring in about 8% gains in IPC compared to Zen 2. A source, which supposedly had a good track record with Zen 2 leaks, has confirmed the same to RedGamingTech although, he did claim that IPC gains more than 8% can be expected but didn't divulge any specifics.
The Zen 3 architecture will be based on TSMC's 7nm++ process, which should see some efficiency improvements over the current 7nm process. With Zen 2, each chiplet offered two CCXs with four cores each and 16 MB L3 cache. Zen 3 will group all eight cores as one chiplet with 32 MB or more L3 cache. This is expected to further reduce latency, which is good news for gamers. Contrary to earlier reports, Zen 3 will continue to use SMT-2 with SMT-4 expected only in 2021 with Zen 4.
If the above information is indeed true, we can expect some Ryzen 4000 (or whatever they'll be called) SKUs to offer close to 5 GHz when overclocked, which is indeed a significant improvement over the first generation Ryzens. Intel is expected to announce 10th gen 10-core Comet Lake processors in Q1 2020 and with the 10-core 20-thread Core i9-10900KF expected to boost up to 5.2 GHz, the company could once gain come under increased pressure from Team Red.