This may be the most un-Meizu Meizu flagship leak ever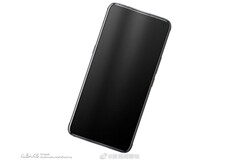 A new image of a full-screen phone with a punch-hole display has appeared on SlashLeaks. Nothing too unusual about that - until one comes to the bit where it is attributed to the Meizu 17. Should this be the case, the OEM in question would need to drop a long-held tradition of engineering ultra-high foreheads as alternatives to either notches or punch-holes.
Meizu is a smartphone OEM an Android fan might consider should they want to buck the trend toward various types of cut-out that are used to maximize screen real estate. Instead, its recent flagships have stood out by offering thinner and thinner bezels around their displays. However, a new leak suggests that it is about to abandon this idea in their 2020 generation.
According to the image in question, this phone, likely to be simply called the 17, will rock a single punch-hole camera. This possible novel component is found in the right-hand upper corner of the screen. The rest of the screen in question appears to be edge-to-edge, if not curved down towards the sides.
Therefore, it may be that Meizu may abandon its apparent tradition of completely flat displays with a slightly old-school appeal. Otherwise, the leak suggests that the 17 will be a fairly conventional phone with hardware buttons on its sides, with a power button to the left, a volume rocker on the right and a shorter, additional key that may call up an AI assistant (or is a customizable shortcut key, perhaps).
On the other hand, given the alleged render's low trust score (33%, at the time of writing), the next Meizu premium phone may look much like its predecessor. Not much else is known about this putative 17: it is currently thought to run on the Snapdragon 865, and that's it.