MS Paint has been spared discontinuation (again)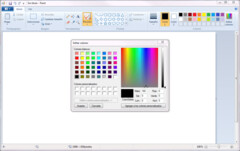 Microsoft had announced a plan to finally put the legacy app Paint to rest in future versions of Windows. However, as with the last time the company tried this, it was met with user pressure to retain the beloved old drawing utility. As a result, it has subsequently been revealed that it will make it to 1903.
About 2 years ago now, an outpouring of public support saved Paint from the chopping block at Microsoft. The company had planned to axe the ancient app from 2017's Creators Update; however, the feedback received on this issue caused them to flip-flop on this decision.
However, there is no guarantee that the Redmond giant will attempt this again in a future version of Windows. Nevertheless, it seems Paint has escaped this fate in the short term. Brandon LeBlanc, the Windows Insider Program's Senior Program Manager, has announced that it will be included in the next upcoming update to the OS.
This version will be known as the May 2019 Update, or Windows 10 1903. LeBlanc has also stated that Paint will also remain a part of the Microsoft ecosystem "for now". Therefore, what may have been the first PC time-killer app for many will still be around, even after 34 years.