A Pixel 3 XL owner claims to have ported Windows to the device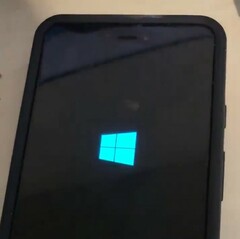 The Twitter account @NTAuthority has posted a video in which a Pixel 3 XL appears to boot into Windows. The OS' logo shows up at the start of this process, which is followed by not much more than a blue screen with what appears to be a command window. Should the claim prove true, it appears that Windows can run on yet another device not intended to do so.
The current drive to port Windows to as many things as possible in your spare time continues. A Twitter user called @NTAuthority has alleged that their Pixel 3 XL device is capable of booting into this OS. This claim was made in a video post with the caption: "I bet you've never seen this before. Well, probably have. It's Windows. On a Pixel 3 XL. Because why not? Everything runs Windows nowadays".
The video appears to show the classic Windows start-up image, along with what looks like a request to press buttons for various boot options. It ends by showing the Pixel's screen on a plain blue 'wallpaper', on which a possible command video is shown.
However, apparently, this is as far as the port goes: the same window is not playing very nicely with the Pixel 3 XL's sizeable notch. Perhaps this video should indeed surprise nobody: the past weeks have also seen a report that Windows had also been persuaded to boot on a Nintendo Switch. Perhaps this will help with Microsoft's onetime goal of a billion installs for its OS after all.