Windows 10 update KB4482887 causing issues with graphics and mouse performance in certain games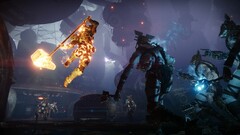 Microsoft has recommended that Windows 10 users suffering from problems with graphics or mouse performance degradation in certain games should uninstall the latest update for the ubiquitous operating system. KB4482887 was rolled out for "quality improvements" but has ironically affected quality in a number of crucial areas.
In a support page for Windows 10 update KB4482887 Microsoft has recommended that some users should uninstall the update if it is having a negative impact on their system. Users have reported authentication problems with Internet Explorer 11, issues with installing some types of MSI and MSP files, and freezing or FPS loss during gaming.
A growing number of games have been reportedly affected by KB4482887. Among those mentioned online are Destiny 2, Apex Legends, Call of Duty 4, Call of Duty: Modern Warfare 2 and Sea of Thieves. Gamers have experienced frame-rate drops, lagging mouse performance, and specifically "broccoli" errors in Destiny 2 when the player's GPU hasn't been properly detected.
Microsoft's current solution for the KB4482887 issues is to simply uninstall the update, which should allow gamers to retrieve the same graphics and mouse performance they were experiencing before installing the update. The company is working on a full solution in the meantime.