Specs for the Pixel 3a and 3a XL confirm previous rumors, tipped for a May 7 launch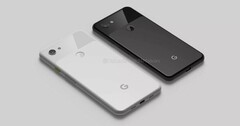 Specs for the upcoming Google Pixel 3a and Pixel 3a XL have appeared online confirming whatever we've known so far about these mid-range Pixel 3 devices. The phones are expected to officially launch on May 7 in India and will jostle for space in the fiercely competitive mid-range segment alongside other popular OEMs.
Google's plans for mid-range Pixel phones, the Pixel 3a and the Pixel 3a XL, aren't exactly new and so far, we've seen a fair share of leaks and renders to corroborate their existence. The phones are already being tested in India and from what we gather, could have an official unveiling on May 7. Here's a quick rundown of the important specs for both the phones that are in conformity with leaks so far —
Pixel 3a
Pixel 3a XL
SoC
Qualcomm Snapdragon 670
Qualcomm Snapdragon 710
RAM
4 GB
4 GB
Storage
64 GB
64 GB
Display
5.6-in FHD+ OLED 431 ppi
6.0-inch FHD+ OLED 411 ppi
Primary Camera
12.2 MP PDAF OIS

12.2 MP PDAF OIS

Selfie Camera
8 MP
8 MP
Connectivity

4G Dual SIM Dual VoLTE
Wi-Fi 802.11 b/g/n
Bluetooth 5.0
USB Type-C
3.5 mm headphone jack

4G Dual SIM Dual VoLTE
Wi-Fi 802.11 b/g/n
Bluetooth 5.0
USB Type-C
3.5 mm headphone jack
OS
Android 9 Pie
Android 9 Pie
Battery
3,000 mAh
N/A
We still aren't sure about the battery capacity of the Pixel 3a XL but expect it to not too different from the 3,000 mAh capacity of the Pixel 3a. Recent case renders of the Pixel 3a and 3a XL seem to indicate fairly prominent top and bottom bezels so it could be possible that these phones might feature the Pixel 3's dual front-facing speakers. We still do not have confirmation on this so we'd advise skepticism.
The Pixel 3a and 3a XL are expected to be valued at US$300 and US$350 respectively, with the actual retail price likely to be slightly more. This price range is a hotly contested niche in the Indian smartphone market. While many OEMs are now offering near flagship-level features at that price with high MP dual cameras and a host of other enhancements, Google has an edge with respect to excellent camera performance, stock Android, and timely updates. It remains to be seen how well these smartphones would be received in India and other global markets.