Intel's new anti-Mac adverts are hilarious - but for all the wrong reasons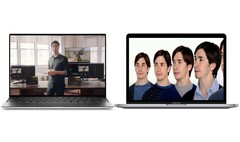 Views, thoughts, and opinions expressed in the text belong solely to the author.
Working For Notebookcheck
Are you a techie who knows how to write? Then join our Team! English native speakers welcome!
News Writer (AUS/NZL based) - Details here
The word "desperate" has already been used in many headlines in regard to Intel's new ad campaign starring former Mac herald Justin Long. While it would be straightforward enough to criticize Intel for its over-simplification of what users look for when choosing between a laptop PC and Apple MacBook, such a thorough dissection could mean you miss out on the simple hilarity value of each video.
First we have Justin, who is no longer "a Mac" and now appears to be "computer illiterate", reminding us that "one's better than none" when an Intel-powered Dell XPS 13 triumphs over the puny M1 MacBook by driving three external monitors and not just one. Very handy for those who find two external monitors is never enough.
The second video has Justin being bowled over by the cutting-edge technology of a touchscreen – because clearly he has never owned a smartphone or tablet before. While the Asus ZenBook Duo 14 is certainly an innovative laptop, poor old Justin is once again expected to play a clueless user who doesn't know that mutton is meat from a sheep.
Top 10 Laptops
Multimedia, Budget Multimedia, Gaming, Budget Gaming, Lightweight Gaming, Business, Budget Office, Workstation, Subnotebooks, Ultrabooks, Chromebooks
under 300 USD/Euros, under 500 USD/Euros, 1,000 USD/Euros, for University Students, Best Displays
Top 10 Smartphones
Smartphones, Phablets, ≤6-inch, Camera Smartphones
By the third video, Intel has to implement some crafty CGI to keep the anti-Mac campaign ticking over. As Justin lovingly unlocks the Asus ZenBook Duo with his face ("whoa" and "wow" indeed), the secondary display magically superimposes itself over the actor's thumbs. Along with that technical wizardry, Intel's argument is now also reduced to "why enjoy superior Apple M1 performance when you can have a less gray machine".
When it comes to the fourth video, Justin has help on hand from "PC gamer" who is enjoying a gaming session on his MSI Gaming Stealth 15M laptop. Intel jokes about the non-presence of the Mac gamer while hoping everyone forgets that the M1 Apple MacBook Pro managed higher average FPS rates in some games than an Acer Swift 5 with i7-1185G7 – and that was in Intel's own benchmarks.
The last video in the current run compares a MacBook with the Lenovo Yoga 9i, which is clearly superior because it's also a tablet and this is what Intel believes is what all laptop owners want. Poor old Justin is then lumbered with an iPad tablet, keypad, and dongle – because apparently you can't really use a MacBook without an additional keypad on hand.
After viewing, it's plain to see why so many commenters are going with the word "desperate" to describe Intel's ad strategy here, although Justin does do an admirable job of portraying a hapless simpleton who likely pictures a male sheep when someone mentions RAM. The tone used by Team Blue here is too cartoonish – you almost expect Justin Long to slip on an apple while walking over to the MacBook or receive a digital pie in the face when trying to use iOS.
Unsurprisingly, the campaign appears to have misfired so far, with the videos already amassing more dislikes than likes on YouTube. Intel should be focusing more on producing consumer and prosumer market-attractive processors and less on taking cheap and unwittingly hilarious digs at a competitor that has already impressed with its first-generation silicon output. But it seems the best Team Blue can do right now is hope viewers will copy Justin by going into electronics stores and opining "Oh, and there's Intel, nice".
Views, thoughts, and opinions expressed in the text belong solely to the author.