Intel outpriced yet again: Asus ZenBook 14 UM425 with Ryzen 7 4700U comes with twice the RAM and twice the storage than the pricier Tiger Lake UX425 version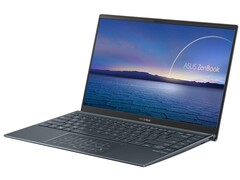 Laptops with Tiger Lake made their debut in early October with the Asus ZenBook 14 UX425EA being one of the first laptops available. As of this writing, the 14-inch laptop with the Core i7-1165G7 CPU, 8 GB of RAM, 512 GB PCIe SSD, and FHD display can be found for about $900 USD — a reasonable price for the latest 11th gen Intel processor.
What potential buyers should be aware of, however, is that this exact same chassis is also available with the latest AMD Ryzen processors. The ZenBook 14 UM425IA swaps out the Intel chip with the Ryzen 7 4700U which we've already proven can hold its own fairly well when up against the Core i7-1165G7. Not only that, but the UM425IA comes with double the RAM (16 GB vs 8 GB), double the storage (1 TB vs 512 GB), and even Windows 10 Pro instead of Windows 10 Home. The advantages don't stop there either as the AMD-powered version is currently retailing for $850 USD or $50 less than the Intel-powered version.
Intel still has one important checkbox on its side that the AMD model doesn't offer: Thunderbolt support. The UM425IA supports up to USB 3.2 speeds only compared to both Thunderbolt 3 and Thunderbolt 4 support on the UX425EA. Users planning on connecting external graphics docks or high-performance NVMe storage docks would have no choice but to go with the Intel model. For everyone else, the RAM increase will be far more valuable especially since system RAM is soldered and therefore non-upgradeable on the ZenBook 14.
After graduating with a B.S. in environmental hydrodynamics from the University of California, I studied reactor physics to become licensed by the U.S. NRC to operate nuclear reactors. There's a striking level of appreciation you gain for everyday consumer electronics after working with modern nuclear reactivity systems astonishingly powered by computers from the 80s. When I'm not managing day-to-day activities and US review articles on Notebookcheck, you can catch me following the eSports scene and the latest gaming news.