HMD reportedly kills plans for a Nokia 9 release this year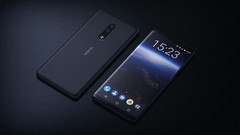 HMD has failed to release a true flagship this year, the Nokia 8 Sirocco that was launched at MWC receiving a mostly lukewarm reception. The Nokia 9 was slated to be the flagship for the year but we may not be getting it this year at all.
HMD has released a number of devices since the Nokia rebrand at the start of 2017 but the company's efforts have mostly leaned towards the budget and mid-range, with premium devices like the Nokia 8 and Nokia 8 Sirocco failing to replicate the successes of the Finnish brand's mid-range offerings.
All of that was supposed to change with the Nokia 9, though. Details of the Nokia 9 painted the image of a truly innovative flagship by the OEM—a penta-lens camera array and a distinct design being some of the noteworthy features. It would seem that we won't be getting the Nokia 9 anytime soon, however, as reports claim HMD has postponed the device's launch, with it currently slated to be unveiled at MWC next year.
The Nokia 9 was touted to be launched sometime this fall as HMD's flagship for the year, but sources claim the company currently feel the device isn't perfected at the moment, and will, therefore, push the launch back to next year. That means that we may not be getting a Nokia flagship this year—the Nokia 8 Sirocco doesn't count—and we will have to make do with a Snapdragon 710-powered Nokia 7.1 Plus. There's also the fact that, unless HMD completely redesigns the phone, it will be launched next year as a Snapdragon 845-powered flagship, effectively making it dead on arrival.