The pentalens Nokia 9 PureView is coming to the US today, $100 off for the first week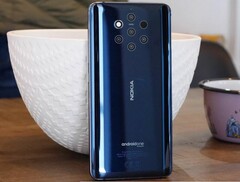 The Nokia 9 PureView was unveiled last week at MWC and is now available in the US starting today. The device's selling point is its penta-lens camera setup that has been shown to take photos with incredible depth and details. The Nokia 9 has a US$700 MSRP but those who hit the buy button this week will get an extra US$100 shaved off.
Nokia finally unveiled its first true flagship device last week, in the Nokia 9 PureView. An otherwise excellent piece of hardware in its own right, the Nokia 9's biggest selling point is the fact that it features five camera snappers on its back—making for seven in total on the phone, an industry first. There's also the fact that, unlike a number of recent Nokia devices, the Nokia 9 will be coming to US.
The Nokia 9 PureView will go on sale stateside today. It is, of course, sold unlocked—although it will work on GSM carriers. The device will retail on Best Buy, Amazon, and B&H.
The Nokia 9 features a 5.99-inch QHD+ P-OLED display, 6 GB of RAM, 128 GB of storage, five rear cameras (2 RGB sensors, 3 monochrome ones), a Snapdragon 845, a 20 MP selfie shooter, IP67 water resistance, an in-display fingerprint sensor, and a 3320 mAh battery.
Apart from the effectively last-gen Snapdragon 845 on the Nokia 9, the device is a veritable flagship. As such, its pricing is a bit surprising. HMD Global has slapped a US$700 price tag on the device, and those who order over the course of the next seven days will get US$100 off that MSRP. In a world where US$1,000 flagships are becoming the norm, the Nokia 9 PureView is a breath of fresh air.