Trypophobia sufferers like PewDiePie won't be posing for photos taken with a Nokia 9 PureView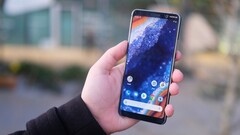 According to a report, people are taking to social media to share their concerns about the Nokia 9 PureView and its potential to trigger symptoms in those who suffer from trypophobia. In simple terms, trypophobia is a fear (or disgust) of groups of holes or bumps. The Nokia 9 PureView's rear penta-lens setup has a pattern that could have trypophobic effects.
Warning: People who suffer from trypophobia should not look at the images at the end of this article.
While engineers and designers at HMD Global were busying themselves creating a penta-lens setup for the Nokia 9 PureView flagship smartphone, it seems they all forgot about the undesirable effects the pattern chosen for the cameras could have on some people. The device has five cameras that along with the flash and infrared sensor are arranged in a hexagonal manner, which features seven separate holes. The group of "holes" this creates seems to be having a negative impact on some trypophobia sufferers.
Trypophobia is not a very well known phobia and is currently not a fully recognized disorder. However, there are enough people reporting symptoms triggered by irregular patterns of small holes that it should be taken seriously. Seemingly innocuous things such as lotus pods, barnacles, coral, tripe, and even strawberries can make trypophobic people feel nauseous and uncomfortable. A feeling of disgust is apparently more prevalent than actual fear. Although the Nokia 9 PureView's penta-lens setup has a regular pattern, people have still commented on it making them feel uneasy.
So purchasers of the penta-lens-bearing Nokia 9 PureView might want to check with their photo subjects before flashing up that potentially skin-crawling hexagonal setup. Popular YouTuber PewDiePie is known for his trypophobia affliction and has posted a video of himself dealing with the issue through exposure therapy. His fans would be better off using the 20 MP selfie camera the Nokia 9 PureView has if they want a souvenir snapshot of their idol, though.