HMD brings Nokia phones to North American carriers in new deal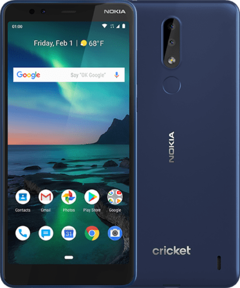 HMD Global has announced new collaborations with North American carriers to bring Nokia phones to users in that continent. The Finnish company has made deals with Verizon and Cricket Wireless in the US and Rogers Communications in Canada so that the carriers will start offering their customers products from the Nokia range. The Nokia 3.1 Plus and the Nokia 2 V will be the first offerings from HMD.
HMD has published a press release detailing new relationships with North American carriers, thus allowing the Finnish company to create a foundation in the region for future product releases. Obviously, the North American market is very important to smartphone companies, so the news is something of a coup for the Nokia manufacturer.
Initially, Verizon will offer the Nokia 2 V (Nokia 2.1 rebrand) as part of its line-up. The smartphone has a decent 4000 mAh battery and is driven by a Qualcomm Snapdragon 425 SoC. The budget-level device comes with 1 GB RAM and operates on the Go edition of Android 8 Oreo. Although it won't blow any minds with incredible specifications or stunning design, it's a reasonable starter phone.
Cricket will stock the Nokia 3.1 Plus, which offers more-attractive hardware for the average smartphone aficionado. Users will enjoy Android 9 Pie straight out of the box, while a Snapdragon 439 and 2 GB RAM offer sufficient performance for the entry-level smartphone. A dual rear camera setup (13 MP + 5 MP) and a fingerprint sensor are just two of the features delivered by this device.
The Canadian offering hasn't been mentioned yet, but it will be available on the Chatr subsidiary, which is owned by Rogers Communications. Although neither of the aforementioned devices are flagship smartphones, this will still be good business for HMD Global and it will give North American users a better opportunity to become familiar with the Nokia range.